The Home Secretary, Amber Rudd, has written for Police Oracle to thank the police for their bravery and professionalism following the attacks in Westminster. She also pays tribute to PC Keith Palmer who gave his life to keep others safe.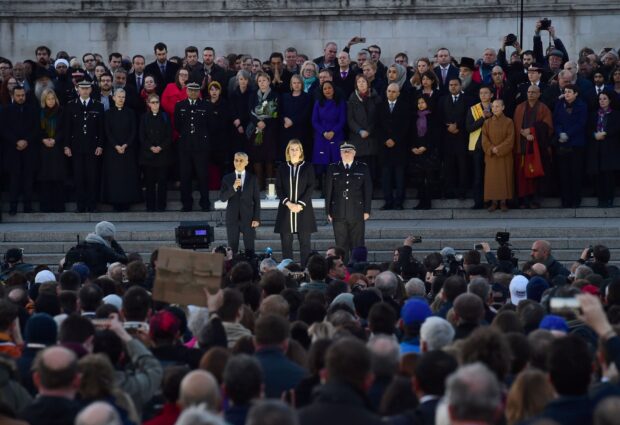 The events that took place in Westminster on Wednesday afternoon have shocked us all.
The way that you, the policing family, have responded and helped to bring the country together in the minutes, hours and days since it happened has been immensely reassuring to us all. It is yet another phenomenal demonstration of the everyday professionalism and bravery upon which we in this country rely, as we go about our lives.
That example is best summed up by the actions of PC Keith Palmer. He gave his life, in the line of duty, in order to keep others safe. So much has been said and written in tribute to PC Palmer – a husband and father who went to work on Wednesday morning and will never go home. His sacrifice, the tragedy of his death, has touched the lives of millions of people in this country and around the world.
PC Palmer had devoted his life to public service, first as a soldier in the Royal Artillery and then as a member of the Parliamentary and Diplomatic Protection Command. It is impossible to fully describe the debt of gratitude we owe to him. I want to express my heartfelt condolences to his family, his colleagues and his friends at this incredibly difficult time. I know there is a profound sense of loss, but his actions will never be forgotten.
PC Palmer's name has already appeared on the Police Roll of Honour Trust website, and he will be remembered permanently at the National Memorial Arboretum in Staffordshire where the UK Police Memorial will provide a lasting tribute to the sacrifices that all too many police officers have made.
Three further police officers were injured by the same cowardly attacker as they walked across Westminster Bridge, returning from a commendation event. Two of those officers remain in hospital, and I know you will share my very best wishes for their recovery.
In these most painful of circumstances, your reactions – along with those of your colleagues across the emergency services – were remarkable. Your calmness and professionalism under pressure shone through. I've said it many times before – we truly have the best police force in the world and I'm humbled by the work you do every day when you put on that uniform not knowing what you might face.
This week we have all witnessed the extraordinary bravery of our police and security services. And the resolute, steadfast determination of the people of this country, to keep calm and carry on, has shown that those who seek to sow evil and hatred will never succeed.
We have made it very clear that the British way of life will not change. And indeed you are getting on with work in the way you do every single day. For that, we owe you a huge debt of thanks.
Rt Hon Amber Rudd MP, Home Secretary
As originally published by Police Oracle on 25 March 2017.