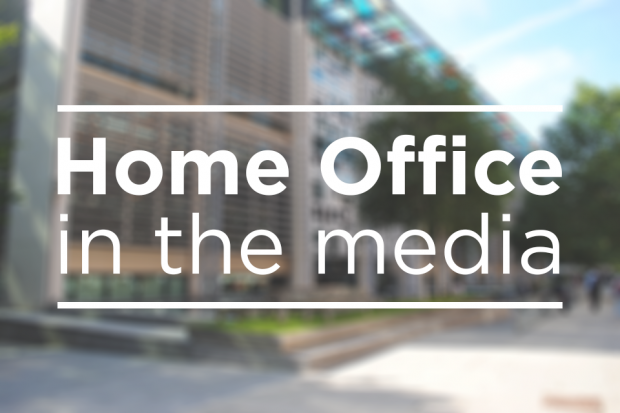 Today's Home Office-related coverage includes the announcement by the Security Minister of £2million of funding for research into technology and behavioural science to help identify terrorists in crowds, and new measures announced yesterday to combat acid attacks.
Fund to identify terrorists in crowds
The Guardian, Times, Telegraph, Mirror, Sun and City A.M. report the Security Minister will announce the fund today, and has called for the "best and brightest" in the science and technology sector to come forward with ideas and proposals to help keep people safe.
The papers say the new scheme will be run in partnership between the Home Office and the Defence and Security Accelerator, a government body launched last year to seek out security innovations.
The gov.uk story can be found here.
In his speech, Security Minister Ben Wallace is expected to say:
In light of the horrific attacks in London and Manchester, the Government has committed to review its counter-terror strategy and further to this I am announcing today that we are making up to £2million available to fund research into cutting edge technology and behavioural science projects designed to keep people safe in crowds.

The threat from terror does not stand still so neither will we, which is why we are calling on the best and brightest from the science and technology sector to come forward with their ideas and proposals to support our ongoing work to keep people safe.
New measures to tackle acid attacks
The Guardian, Independent, Times, Telegraph, Mirror, Mail, Express, Sun, Metro and Star report the measures announced to combat acid attacks, including potential increased sentences for perpetrators.
Today, Labour MP Stephen Timms will lead a debate in Parliament on the issue of acid attacks.
The Home Secretary's statement on the issue is below.
Home Secretary Amber Rudd said:
Acid attacks are horrific crimes which have a devastating effect on victims, both physically and emotionally.

It is vital that we do everything we can to prevent these sickening attacks happening in the first place.

We must also ensure that the police and other emergency services are able to respond as effectively as possible, that sentences reflect the seriousness of the offences and victims are given the immediate support they need.