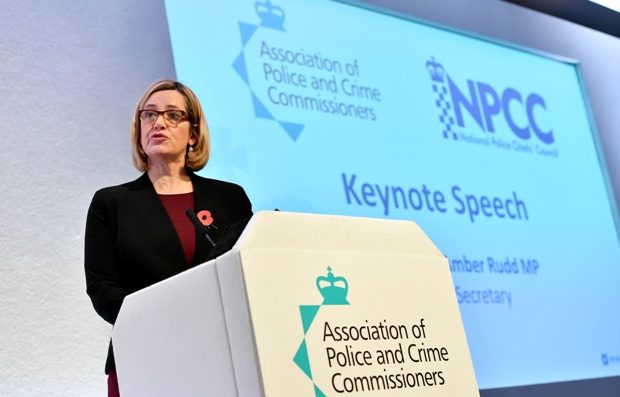 Today's Home Office-related coverage includes police funding and a report into detained women at immigration centres.
Home Secretary's speech at police summit
The Telegraph and the Today programme carry coverage of speech due to given by the Home Secretary a National Police Chiefs' Council (NPCC) and Association of Police and Crime Commissioners (APCC) summit this morning.
The Telegraph reports that the Home Secretary will promise to protect police officers from assault, pledge to back up officers who pursue criminals on mopeds and commit £27million for "transformation projects" to allow forces to collaborate and improve. The Today programme focused it's coverage on police funding and featured an interview with Roger Hirst from the APCC calling on the government to provide more money in future.
The Home Secretary's full speech is now available on gov.uk.
Bishop James Jones' report
Politico's London Playbook and the Today programme previewed Bishop James Jones' review of the Hillsborough families' experiences.
The report was published this morning.  Please find a comment from the Home Secretary below. This is also available in a press release published on gov.uk.
Home Secretary Amber Rudd said:
I am grateful to Bishop James Jones for undertaking this important piece of work. His thoughtful and considered report raises important points.

The Government will now carefully study the 25 points of learning and we will provide a full response in due course.
Female immigration detainees report
The Independent and Sky News have articles on a report by Women for Refugee Women saying that victims of sexual violence are being detained, despite the Home Office's 'Adults at Risk' guidance.
Natasha Walker, founder of Women for Refugee Women, told the Independent that their finding were "hugely disappointing".
Our response to this story can be found below.
A Home Office spokesperson said:
Detention is an important part of our immigration system, helping to ensure that those with no right to remain in the UK are returned to their home country if they will not leave voluntarily.

We operate on a presumption against detention, and the adults at risk policy aims to improve our approach to identifying individuals who may be particularly vulnerable to harm in detention. When people are detained this is for the minimum time possible, and the dignity and welfare of those in our care is of the utmost importance.
Sign up for email alerts and follow us on Twitter.