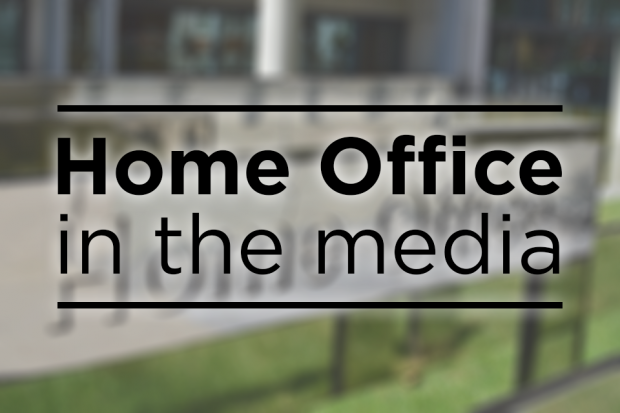 On top of today's net migration statistics, other Home Office stories of interest cover the number of illegal immigrants in Britain, and the use of helicopters across police forces.
Illegal immigrants
The Daily Mail and The Times are among those that report on the Independent Chief Inspector of Borders and Immigration David Bolt's evidence to the Home Affairs Select Committee earlier this week. Mr Bolt claimed it was "extremely difficult" to be precise about how many overseas nationals were in Britain unlawfully.
The Home Office's response to this story can be found below.
A Home Office spokesperson said:
It is harder than ever before for those with no right to be here to remain in the UK. Whether it is working, renting a property, opening a bank account or driving a car, we can now take tougher action on those who flout the law.

The Home Office introduced exit checks in 2015 to provide more comprehensive information on travel movements across the UK border. However, by its very nature, it is not possible to estimate with any confidence the size of the illegal population and so we do not seek to make any official estimates.

We expect those with no basis of stay to leave voluntarily and where they do not we will enforce their removal. This includes foreign criminals of whom we returned more than 6,000 last year.
Use of police helicopters
The Guardian and the BBC both cover the HM Inspectorate of Constabulary and Fire and Rescue Services' (HMICFRS) report on the National Police Air Service (NPAS). It is reported that police forces are not using helicopters due to costs, potentially allowing criminals to escape.
The Home Office's response to this story can be found below.
A Home Office spokesperson said:
As HMICFRS makes clear, we have provided NPAS with the capital required to meet their operational needs. Ultimately, police leaders are best placed to determine their requirements for air support and when it is best to deploy it.

This Government has protected overall police spending in real terms since the 2015 Spending Review and on average, forces contribute less than half a per cent of their funding to air support.

Whilst we support the use of drones technology, we expect police to act on the report's recommendations and save money by purchasing expensive items such as drones collectively.