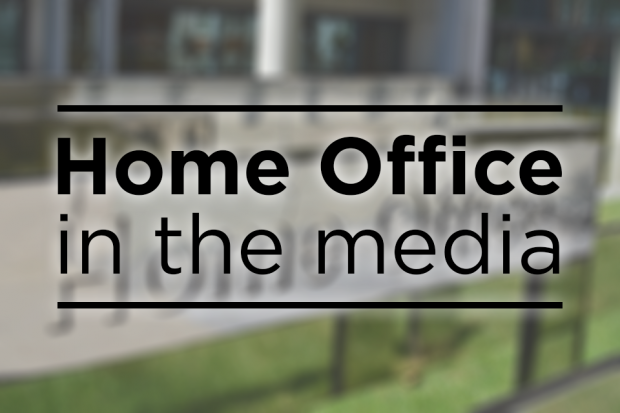 Today's Home Office related stories include articles regarding nearly 500 sex offenders who are "missing". The Guardian also reports that plans to 'deport' two academics have been dropped.
483 registered sex offenders escaped police supervision
Sky News has obtained Freedom of Information figures from police forces which shows that nearly 500 registered sex offenders have escaped the supervision of police.
The Sky News report stated that the missing includes rapists and paedophiles, some of whom disappeared more than a decade ago. According to Sky News, the Metropolitan Police has the highest number of missing offenders with 227.
The Times, Telegraph and Mirror have picked up the Sky News story and figures. The Telegraph states that there are more than 55,000 registered sex offenders living in the UK.
The Home Office has issued the below statement in response to these reports:
A Home Office spokesperson said: 
The UK has some of the toughest powers in the world to deal with registered sex offenders and we are committed to ensuring that the system is as robust as it can be. 

We have significantly strengthened the system of reporting that sex offenders are subject to, and a range of civil orders have given police more powers to manage their behaviour. 

When a registered sex offender goes missing, their details are recorded on national and international systems and the police will actively seek out further information and intelligence to locate them.

The figure of 483 registered sex offenders whose whereabouts is unknown is less than 1% of the total.
Home Office drops plans to 'deport' academics
The Guardian ran a short story stating that the Home Office has decided to grant two Durham University academics, Dr Ernesto Schwartz-Marin and Dr Arely Cruz-Santiago, indefinite leave to remain after a public outcry.
 According to the paper, the Mexican couple had been issued a notice to leave after an apparent breach of their tier 2 visa after doing humanitarian work in Mexico. A Home Office statement can be found below.
A Home Office spokesperson said:
Following a review of the initial decision, Mr Schwartz-Marin has been informed that the applications of his and his wife for Indefinite Leave to Remain have been approved.