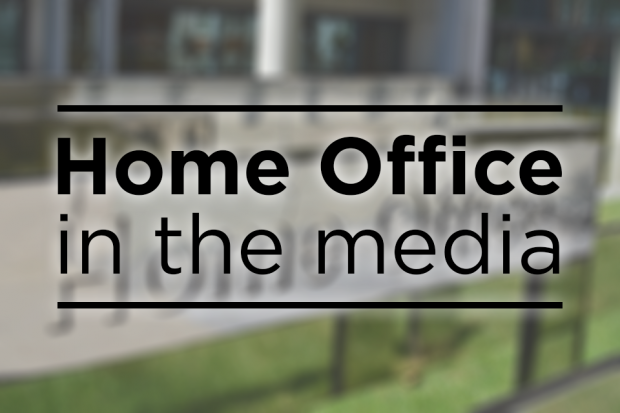 Today's Home Office media stories include comments made on routinely arming of police and Tier 2 visas.
Armed Police
There is widespread coverage in print and on this morning's news bulletins of a National Police Chiefs' Council briefing into the armed uplift of policing held yesterday (Wednesday, 16 May) led by Detective Chief Constable Simon Chesterman, the NPCC lead on armed policing.
Among the issues raised in the briefing was that the number of firearms officers in regular police forces has increased, that routine arming of police forces was "not off the table" - although not necessary at present - and that the NPCC faced issues with recruitment of armed officers.
The coverage leads on claims that the NPCC are considering arming rural police. Most note that this would be for police officers in remote locations where firearms units cannot respond quickly and that these officers would be able to respond to any rural terror attack. The Times says it is a "controversial move" because of the longstanding tradition of only 10% of officers carrying guns. The papers note that a recruitment drive following the terror attacks in Europe has seen the number of armed officers increase. The papers note that areas like Devon and Cornwall could be among the areas where the plan is enacted. On the Today programme DCC Chesterman said the plan would be a "last resort". The Telegraph reports that DCC Chesterman said they needed to think of "innovative" ways to protect rural areas.
The Guardian says it has obtained details of the plans, claiming officers would be given two weeks training before being handed a firearm and that there would be infrastructure costs involved. The report also says it would need to be decided whether officers carry weapons covertly or openly.
The Times carries an analysis piece saying that there should not be panic at the plan and armed police "can be trusted".
A Home Office spokesperson said:
We are providing £143 million to increase our armed policing capability and capacity, in order to respond more quickly and effectively to a firearms attack and we keep our preparedness under constant review.

All regions in the UK have an armed police capability, and it is for Chief Officers to determine the number of Armed Officers in their areas based on a thorough assessment of threat and risk. Some forces are also therefore uplifting their armed capability, which will bring the total increase figure to around 1,500 officers.
Tier 2 visas
The Independent and Financial Times follow up on the BBC story yesterday on statistics, released under Freedom of Information, revealing that 6,000 people were denied a Tier 2 visas between December 2017 and March 2018, including 1,800 healthcare professionals, 1,200 in IT and technology and 392 in engineering roles. The papers say that the Commons Science and Technology Committee was "disappointed" in the Home Office policy and would be drafting its own draft visa rules for scientists and related professionals.
A Home Office spokesperson said:
The Government fully recognises the contribution that international professionals make to the UK. However, it is important that our immigration system works in the national interest, ensuring that employers look first to the UK resident labour market before recruiting from overseas.

When demand exceeds the monthly available allocation of Tier 2 (General) places, priority is given to applicants filling a shortage or PhD-level occupations. No occupation on the Shortage Occupation List has been refused a place.