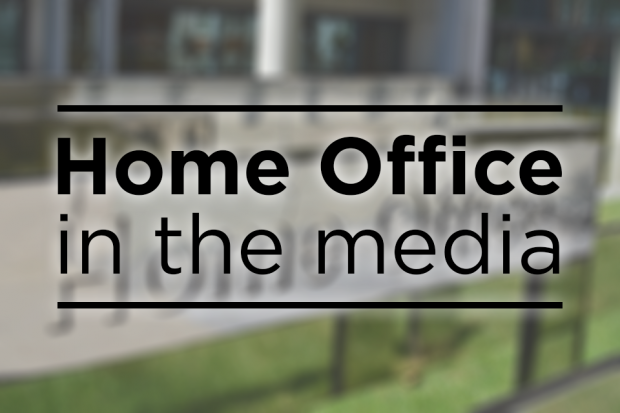 Today's Home Office media stories include moped crime and continuing coverage of stolen passports.
Mail investigation into stolen passports
The Mail continues its investigation into stolen passports. Today's coverage has focused on black market British passports, which are being sold openly on social media.
According to its investigation genuine and fake versions can be bought for as little as £800. It also found passports were being cloned, with details taken from real passports being touted for a few hundred pounds on other easily-accessible websites.
David Ibsen, a security expert who advised the US Government, is quoted and says it is no surprise Facebook is being used to 'hawk' passports that could fall into the hands of terrorists.
The paper says one Facebook page in Arabic features multiple pictures of British travel papers. It says another Facebook page is used by some refugees in the EU to find government-issued travel documents that allow free movement.
The Immigration Minister Caroline Nokes said:
Immigration Enforcement constantly monitors and identifies emerging threats in relation to the production and supply of false travel documents, including the use of the internet to facilitate the trade in passports and identity cards. We have a range of interventions to target the criminals involved, including criminal prosecution of crime groups in the UK and overseas.

The passport application process is rigorous and we continue to develop our anti-fraud measures to keep ahead of the criminals who attempt to get a UK passport fraudulently.

Our efforts to combat passport fraud do not stop at the point that a passport is issued, and we work closely with law enforcement agencies to take action against any person identified as having obtained a passport by fraudulent means.
Moped Crime
The Mail, Sun, Express and Metro report on a moped incident in Manchester in which police on scrambler bikes intercepted suspected moped thieves at a junction. The papers report that two of the suspected thieves were apprehended. The Mail reports that the footage caught on a dash cam camera has received widespread praise and there are calls for the Met Police to use similar tactics in London. The papers report that Greater Manchester Police launched a specialist policing team in July last year, which has seven unmarked scrambler bikes to patrol the city.
A Home Office spokesperson said: 
Reports of crimes involving motorcycles, mopeds and scooters are clearly a concern. That is why the Government has worked with the police, industry and other partners to develop a comprehensive action plan focusing on what more can be done to prevent offending and keep the public safe.

This work sits alongside our ongoing consultation on police pursuits which seeks to give police greater confidence to pursue suspects and will help tackle moped crime.