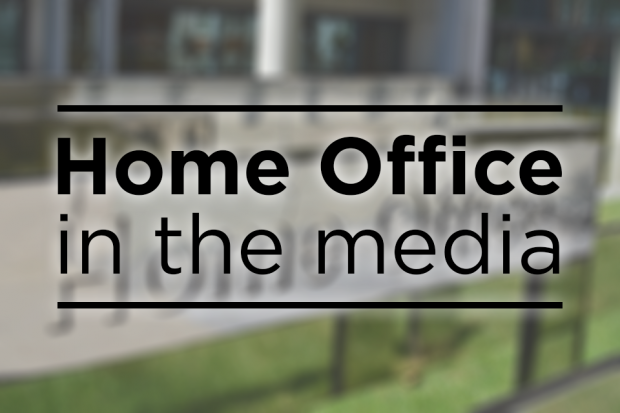 Today's Home Office media stories include the Joint Committee on Human Rights report on Windrush and the nurse found guilty of sex trafficking.
JCHR report on Windrush
The Times, Guardian, Telegraph and Independent report on the latest Joint Committee on Human Rights (JCHR) report on Windrush, which found that the Home Office behaved in a "shocking" manner towards two individuals from the Windrush generation. The report focuses on Paulette Wilson and Anthony Bryan, who were wrongly sent to immigration detention centres ahead of planned removal, despite having lived in the UK continuously for about 50 years.
The Guardian and Telegraph report that Permanent Secretary Sir Philip Rutnam revealed at a committee session that the Home Office has paid out £21 million after mistakenly detaining more than 850 people between 2012 and 2017.
The Independent quotes Harriet Harman, the chair of the JCHR, as saying that "it is simply not plausible that these cases were just mistakes" and that this report should alert the Home Secretary to the scale of the issue.
A Home Office spokesperson said:
The Home Secretary has offered personal apologies to Mr Bryan and Ms Wilson and has been clear that the Home Office must learn from the wrongs experienced by them and other members of the Windrush generation.

Our priority is to ensure that those who have struggled to demonstrate their right to be here are supported to do so and we have issued more than 2,000 documents confirming people's settled status. In addition, we have committed to setting up a compensation scheme.

But we know that it is equally important that we ensure that nothing like this can happen again. That is why we are carrying out historical reviews of detention and removals and have commissioned an independent lessons learned review.
Nurse guilty of sex trafficking
There is widespread coverage of a London-based nurse, who has been convicted of trafficking five Nigerian women into Germany to work as prostitutes after subjecting them to "voodoo" rituals.
The papers say Josephine Iyamu, 51, was convicted of five counts of arranging or facilitating travel for sexual exploitation at Birmingham Crown Court.
The case is the first in England and Wales in which a British citizen has been prosecuted for sexual trafficking offences committed outside the UK, making it an important development in the use of the Modern Slavery Act.
Minister for Crime, Safeguarding and Vulnerability Victoria Atkins said:
 This is an important milestone in this country's efforts to tackle the horrors of trafficking and modern slavery.

 It has been made possible by our dedicated law enforcement officers working closely with their colleagues in other countries and it is positive to see our world-leading Modern Slavery laws helping to rid society of these evil crimes.