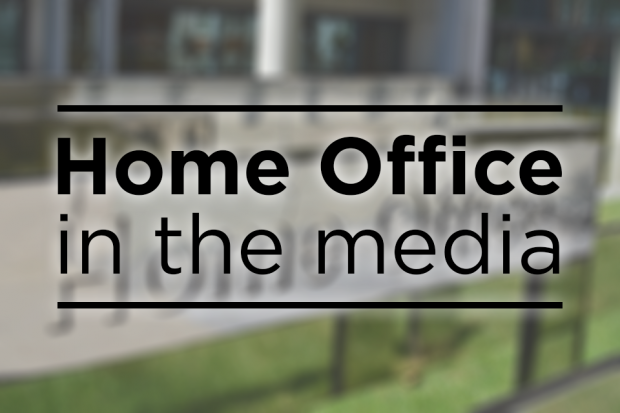 Today's Home Office in the media stories include the latest on the Amesbury incident.
 Amesbury incident
There is widespread print coverage of the latest developments in the Amesbury poisoning, which were covered on broadcast yesterday. Matthew Rowley, the brother of Charlie, says that he and his partner Dawn Sturgess may have come into contact with the nerve agent Novichok through a perfume bottle which was left under a bush.
In the Independent, the son of Dawn, Ewan Hope, calls on President Donald Trump to confront Vladimir Putin over the case.
The Home Secretary made a statement about the incident last week in Parliament.
Home Secretary's words in the House:
As I said earlier when I visited Amesbury and Salisbury, the Government will continue to provide the local community all the support it needs.

The Prime Minister and I will continue to receive regular updates about the situation.

This is now a murder investigation which is being led by about 100 detectives from Counter-Terrorism Police Command, alongside officers from Wiltshire police and other constabularies.

We know that the tests conducted at Porton Down have shown that both individuals were exposed to the same type of Novichok used to poison Sergei and Yulia Skripal in March.

Officers are still trying to work out how the pair were exposed to the same nerve agent, although tests have confirmed that they touched a contaminated item with their hands.

The investigation is now moving as quickly as possible to identify what the source of the contamination was.