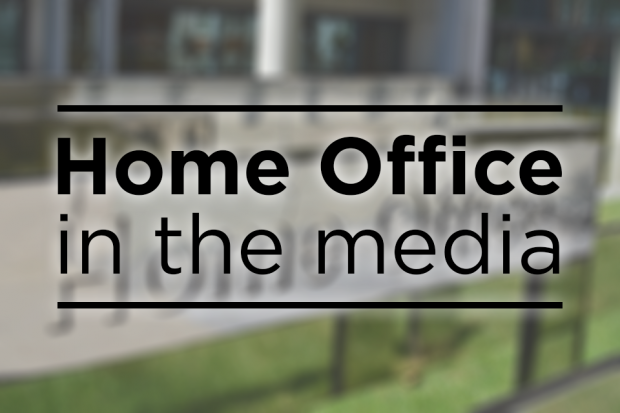 Today's Home Office in the media stories include the Daesh 'Beatles', asylum for Syrian volunteer group – the "White Helmets" and the acid attack on a three year old boy.
Home Secretary on Daesh 'Beatles'
The Telegraph splashes on a leaked letter sent from the Home Secretary to the US Attorney General about the British jihadis known as the 'Beatles'.
The paper says the Home Secretary says he will demand no 'assurances' that the two men, Alexanda Kotey and Shafee El-Sheikh, will not be executed in the USA.
The Home Secretary says that while the UK is introducing new legislation to toughen the law against foreign fighters and it is his belief that the US would be more likely to have a successful prosecution and a hand down long prison terms.
UK asylum for Syria's White Helmets
The Guardian front page, Express and Sun report that the UK is willing to offer asylum to the Syrian volunteer group, the 'White Helmets', who have been carrying out search and rescue operations in Syrian war zones.
It's reported that 98 White Helmets were rescued by Israeli forces in a difficult mission on Saturday night, with a further 320 family members of the group.
The papers report that the UK will be using a similar process as used for the Syrian Vulnerable Persons Resettlement Scheme to identify individuals for resettlement in the UK.
Violent crime
The Sun, Mirror and Today programme report on the latest acid attack on a three-year-old boy. The papers say that police have arrested three men in London in connection to the attack.
The Sun highlights that the UK has seen a surge in reported acid attacks with numbers soaring from 228 in 2012 to 601 four years later.
Home Office spokesperson said:
Attacks using acid and other corrosive substances are barbaric crimes that devastate lives and can leave victims with life changing injuries and emotional scars.

The Government is taking action to bring a stop to them and perpetrators can face up to life imprisonment on conviction.