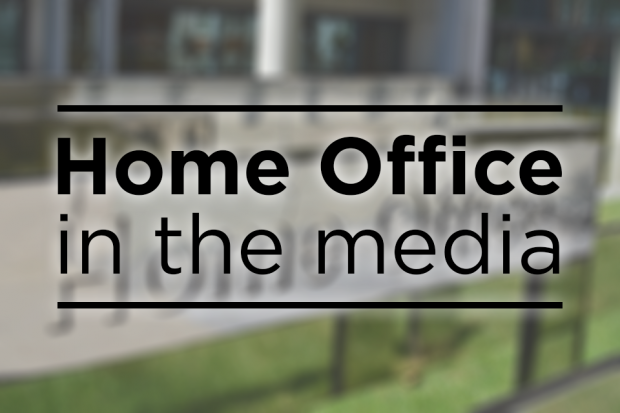 Today's Home Office related stories include forced marriages and antique firearms.
Summer spike in forced marriages
The Independent splashes on forced marriages and claims that the Government is failing to deal with a 'spike' in the number of British girls married abroad against their will. The outlet states the number of girls being forced into marriage in the run-up to the school holidays increased by more than a third since 2015, according to figures obtained by the charity Karma Nirvana.
The article says the charity accuses the Government of "abject failure" after the Home Office shelved a campaign to raise awareness with communities of the practice. A statement on the issue can be found below:
A Home Office spokesperson said:
The UK is a world-leader in tackling the horrendous crime of forced marriage, and work to tackle it is an integral part of our cross-Government Violence Against Women and Girls Strategy.

We continually work with charities and police to highlight this important issue to the public, and the work being done to tackle it, via the media and community engagement.

Border Force, the police and other agencies also regularly work together to raise awareness of harmful practices, including forced marriage, through joint operations aimed at individuals travelling to or from the UK, to countries where these practices are prevalent.
Antique firearms being used by criminals
The Telegraph reports that hundreds of unlicensed handguns are being brought into Britain legally and are being sold to criminals, due to a loophole on antique firearms.
The paper says the handguns are exempt from legislation that requires owners to have a licence because they are old enough to qualify as antiques, and are designed for calibres of ammunition now considered obsolete.
However, criminals have been manufacturing their own rounds of ammunition and these have been used in six killings. The issue has been highlighted by BBC's Panorama programme.
A Home Office spokesperson said:
The UK has some of the toughest gun laws in the world. We are determined to keep it that way, which is why we are strengthening firearms controls further, including those relating to antique firearms, to stop them falling into the hands of criminals.

We included in the Policing and Crime Act 2017 measures to prevent people from converting imitation firearms into live firing weapons and created a new offence of making a defectively deactivated weapon available for sale or as a gift.

The Home Office has also consulted on proposals that will enshrine in law a new definition of antique firearms, ensuring older weapons that could still pose a danger to the public are licensed. We are considering the responses and plan to introduce the regulations later in the year.
Sign up for email alerts and follow us on Twitter.