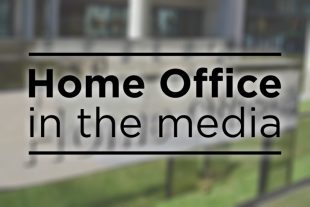 Today's Home Office related stories include a survey from the NSPCC on online grooming, a report from the Migration Observatory and the Tinsley House immigration removal centre inspection.
NSPCC report on online grooming
The Times, Telegraph, Mail, Express and Sun all carry coverage of a new survey from the NSPCC which has found that, on average, one child in every British primary school class has been sent a naked or semi-naked image by an adult online.
The poll of nearly 40,000 children aged 7 to 16 also found that one in fifty had sent such an image to an adult.
The reports say that the charity has launched a petition calling on the Home Secretary and the Digital Secretary to clamp down on technology companies to stop children being abused and groomed online. The Wild West Web campaign is calling on Ministers to create an independent regulator.
A Government spokesperson said:
Online grooming is an appalling crime that this Government is working to tackle. We are clear that what is illegal offline is illegal online.

We have provided law enforcement with the tools and resources they need to identify grooming victims and bring offenders to justice. Last year, we provided police forces in England and Wales with more than £20 million to enable dedicated officers to operate online in forums and chat rooms to identify and pursue offenders.

But we cannot tackle this problem alone, and while tech companies have made positive steps in this area, they must continue to do everything possible to prevent their platforms being used to abuse and exploit children. We are currently reviewing options for a white paper, setting out details of the legislation to be brought forward, which will be published later this year.
Filling low-wage jobs after Brexit could risk worker exploitation, study warns
The Independent carries an article on a new report from the Migration Observatory that claims the Government will struggle to fill low-paid jobs after Brexit while also maintaining protections for migrant workers against exploitation.
The authors say that there are two options for helping migrant workers enter Britain after Brexit: expanding an existing youth mobility scheme to include UK countries or introducing a work permit system specifically for particular low-paid jobs in industries such as agriculture and healthcare.
A Home Office spokesperson said:
After we leave the EU, we will have in place an immigration system which works in the best interests of the whole of the UK.

This system will be based on evidence. The Government has commissioned advice from the Migration Advisory Committee and we continue to engage with a range of stakeholders.
Tinsley House inspection
The Times, Telegraph and Independent report that the prisons watchdog will urge the Home Office to investigate why the removal of detained immigrant families "routinely" fails, in the hope that it will reduce the number held.
The pieces note that in the 11 months that pre-departure accommodation at the Tinsley House immigration removal centre had been opened, only 4 of 19 detained families had been removed.
The Times and Independent carry a comment from the Chief Inspector of Prisons, Peter Clarke, saying that a Home Office review of why families depart should aim to reduce "the unnecessary and harmful detention of children and families."
A Home Office statement was carried in all three articles.
A Home Office spokesperson said:
Detention is an important part of the immigration system - but it must be fair, dignified and protect the most vulnerable.

This report makes many positive findings, including the good relationship between staff and detainees, however it rightly points out areas where we can do better and we are committed to improving.

Last month the Home Secretary announced a series of reforms to immigration detention in response to Stephen Shaw's follow-up review of the welfare in detention of vulnerable people. These included doing more work with partners to develop further alternatives to detention, improving support for the most vulnerable, the introduction of a new drive on dignity and a commitment to be more transparent.