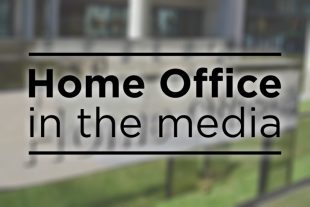 Today's Home Office media stories include the deportation of a foreign national offender being halted due to protests from holidaymakers and a new report on stop and search as a policing tool.
Deportation of rapist
The Times, Mail, Express, Sun and Metro report that the identity of an airline passenger whose deportation was halted after protests by holidaymakers was revealed by the Mail on Sunday yesterday.
The paper reported that he is a convicted gang rapist.
According to the pieces, Mr Yaqub Ahmed was on a flight waiting to take off from Heathrow to Istanbul last week when fellow "sympathetic" passengers intervened, in the latest action by the public to halt deportations. The articles note that he was being expelled after having been convicted of being part of a gang of four men who raped a 16-year old stranger who had become separated from her friends during a night out in London.
A Home Office spokesperson said:
We only return those with no legal right to remain in the UK, including foreign national offenders. All foreign nationals who are given a custodial sentence will be considered for removal.

Foreign nationals who abuse our hospitality by committing crimes in the UK should be in no doubt of our determination to deport them and we have removed more than 43,000 foreign offenders since 2010.
Stop and search
The Independent reported on the comments made by Labour MP David Lammy who said that stop and search in an "ineffectual" practice and an "integral cog in a racially disproportionate" criminal justice system.
According to the piece, Mr Lammy's comments came after a report by campaign group Stop-Watch was released on Saturday which claimed that black people are increasingly more likely to be stopped and searched than white people.
The Stop Watch report was also picked up by the Sun, Mirror and Metro.
A Home Office spokesperson said:
Stop and search is a vital policing tool and officers have the Government's full support to use these powers.

We are clear that nobody should be stopped on the basis of their race or ethnicity and since introducing reforms in 2014 we have seen the highest ever stop to arrest ratio.

However, tackling serious violence is not just about law enforcement and that is why, earlier this month, the Home Secretary proposed a new 'public health' approach. This would see police, education, local authority and health care professionals being given a new legal duty to take action to prevent serious violence.