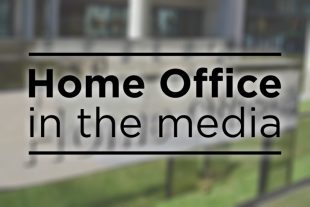 Today's Home Office media stories include the Home Affairs Select Committee's report on the future of policing and the visa ban for the suspects in the killing of Saudi journalist Jamal Khashoggi.
Future of policing report
There is widespread coverage of the Home Affairs Select Committee's report on the future of policing, published today.
All the main broadcasters and most papers report the Committee warns that police could become "irrelevant" due to the falling number of front-line officers and a failure to investigate and solve crimes.
A Home Office statement is also carried throughout today's coverage.
A Home Office spokesperson said:
The Home Secretary has already been clear that he will prioritise funding for the police.

Our decision to empower accountable Police and Crime Commissioners to make decisions using their local expertise does not mean that we do not understand the demands on police forces.

We have been on the front foot in engaging with police. The Policing Minister has spoken to leaders in every force in England and Wales to better understand the demand and changing nature of crime faced by forces.

We are now working closely with the police to gather the evidence to ensure they continue to receive the resources they need at the next Spending Review.
Saudis visa ban
The Express and the Sun report that the suspects in the killing of dissident Saudi journalist Jamal Khashoggi will be barred from entering Britain.
The articles note that the Prime Minister said the Home Office was immediately revoking the visas of any of the suspects who currently had them.
Home Secretary Sajid Javid said:
The UK Government condemns in the strongest possible terms the killing of Jamal Khashoggi and has serious concerns around the explanation given by the Saudi authorities.

With this in mind, I have decided to take action against those implicated in his death to prevent them from entering the UK.

We will always be thoughtful and considered in our response, but if the appalling stories are true, they are fundamentally incompatible with our values.