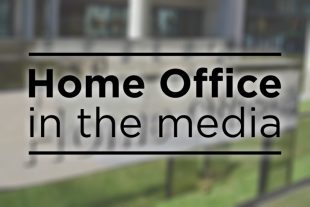 Today's Home Office stories include further reports on hate crime and airport licensing.
Hate crime
There is continued widespread coverage of NPCC Chief Sara Thornton's comments yesterday including in the Telegraph, Independent, Sun and Mail, and on broadcast in the Today Programme, noting that she claimed police do not have the time or resources to record hate crimes.
The Telegraph reported that individual police forces were not recording misogyny as a hate crime. It also reported that investigating hate crimes risks taking police away from core priorities.
The Today Programme, Times, Mail and Guardian also report that Met Police Chief Commissioner, Cressida Dick, has voiced support for Ms Thornton's comments.
A Home Office spokesperson said:
The Government is clear that all hate crimes are completely unacceptable and have no place in British society.

As part of our Hate Crime Action Plan Refresh we have asked the Law Commission to undertake a review of current hate crime legislation and we look forward to seeing the results.

We recognise that demand on the police is changing. We have responded positively by providing a strong and comprehensive settlement that is increasing total investment in the police system by over £460m in 2018-19.
Airport licensing
The Times, Independent, Telegraph, Express and Sun report that airports could be banned from selling miniature bottles of alcohol as part of a crackdown on drunk passengers.
Coverage notes that ministers are also considering whether airside drinking should be brought under the same licensing regime as pubs.
Minister for Crime, Safeguarding and Vulnerability Victoria Atkins said:
Most UK air passengers behave responsibly when flying, but any disruptive or drunk behaviour is entirely unacceptable.

This Government is committed to ensuring that the travelling environment for airline passengers remains safe and enjoyable.

This is an excellent opportunity for all interested parties to engage directly with us, inform our understanding of the problem and identify suitable solutions.