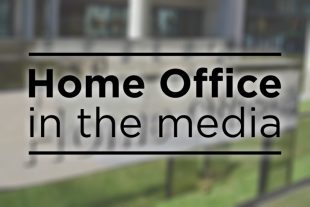 Today's Home Office stories include reports on modern slavery victims, seizure of drugs statistics and foreign nationals offenders.
Modern slavery victims
The Guardian and Independent report that the Government has been ordered to make back-payments to victims of trafficking, after a high court judge ruled that reductions to their support payments were unlawful.
Coverage notes that the ruling followed the department's decision in March to reduce support to people it accepted were victims of trafficking from £65 per week to £37.75.
The Guardian highlights that the Home Office defended the change by saying it wanted to bring levels of support in line with those for destitute asylum seekers.
A Home Office spokesperson said:
Modern slavery is an abhorrent crime and the Government is clear that we will do all we can to tackle this issue. We have introduced world-leading legislation in the Modern Slavery Act, which gives law enforcement agencies the tools to target perpetrators and expanded the support available to victims.

We are committed to reforming the National Referral Mechanism to ensure victims of modern slavery get the support they need.

We accept the court judgment and will set out our response in due course.
Drugs seizure stats
The Times, Telegraph, Mail, Express, Sun and Star report that the number of drug seizures made by police and Border Force officers has fallen to 135,000 – the lowest since 2004 and down by 2 per cent in a year, according to Home Office figures released yesterday.
Coverage comes after the annual drug seizure stats were published. This shows that most of the drugs seized were cannabis, followed by cocaine, heroin, crack and amphetamines. In addition, it notes that the number of new psychoactive substances such as nitrous oxide, seized rose
A Home Office spokesperson said:
Drugs can devastate lives, ruin families and damage communities. The Government is taking this seriously and is committed – through three key strategies backed by millions of pounds of funding - to tackling the illicit drug trade, protecting the most vulnerable and helping those with a drug dependency to recover and turn their lives around.

The Home Secretary also recently announced a major review of drugs, which includes a focus on the illicit market.
Foreign National Offenders
There is widespread coverage in the Telegraph, Times, Independent, Express, Sun, Mirror and Metro noting that hundreds of foreign criminals have absconded while awaiting deportation.
According to the pieces, figures obtained under a Freedom of Information request from the Press Association show that in just over two and a half years, 450 foreign criminals absconded while living in the community as Home Office officials attempted to remove them from the country
A Home Office spokesperson said:
We always seek to deport those who commit crimes and whose conduct poses a serious threat to the basic fundamentals of society.

We never give up trying to locate absconders, which is why we have introduced measures in the Immigration Act 2016 that will mean that in the future all non-detained foreign nationals subject to deportation proceedings or a deportation order will be considered for electronic monitoring.

We have removed more than 44,500 foreign national offenders since 2010, and this week, like every week, more than 100 foreign criminals will be removed from the UK. In 2017-18, we removed more than 2,000 FNOs direct from prison under the Early Removal Scheme. Today's Home Office stories include the high court ruling on payments to victims of trafficking, seizure of drugs statistics and foreign nationals offenders.