Today's Home Office stories include articles on stop and search, migrants rescued from the Channel and police resources.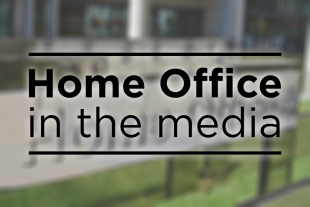 Report on stop and search
The Independent carries an exclusive on new research which has found that stop and search does not significantly reduce knife crime.
The report, from the Centre of Crime and Justice Studies, also says that stop and search is "disproportionally used against people of colour".
The article notes that the Home Secretary and senior police have called for the power to be used more widely.
A Home Office spokesperson said:
Stop and search is a vital policing tool and officers have the Government's full support to use these powers in a way that is fair, lawful and effective.

The Home Secretary has said he wants police officers to feel confident, trusted and supported when they are using stop and search powers.

We are looking at ways to work with the police to reduce bureaucracy and increase efficiency in the use of this power. 
Migrants rescued from Channel
The Times reports that eight migrants were rescued early Sunday morning after attempting to cross the Channel in an inflatable dinghy.
French maritime law enforcement rescued the men ten miles off the French coast and brought them back to Boulogne, where they were treated for hypothermia.
The paper reports that French officials have seen an increase in illegal attempts to cross the Channel, with at least 21 attempts since the start of October, compared with about 10 for the first nine months of the year. They believe that the rise follows claims by people-smuggling gangs that it will be more difficult to enter Britain after Brexit.
A Home Office spokesperson said: 
At around 3am this morning (Sunday 25 November) Border Force deployed a coastal patrol vessel in response to a distress call in the Channel.

French Authorities also responded to the call and embarked eight Iranian individuals prior to the Border Force vessel arriving on the scene. The individuals were then taken back to France.
Wiltshire police force
The Telegraph reports that Wiltshire Police has been named the worst-staffed force in the UK, with one officer for 721 people in its region.
Home Office figures show that the county has the lowest staffing rate, followed by Staffordshire and Warwickshire. The City of London force had the best rate, with one officer every 11 people.
Police Federation of England and Wales vice-chairman Che Donald claimed the low staffing rates were down to funding cuts.
A Home Office spokesperson said:
We are on the front foot in engaging with the police and recognise the changing demands they are facing.

There is £1billion more of public money going into policing than three years ago and the Home Secretary has been clear that he will prioritise police funding.

As the Chancellor noted in the Budget, we will review police spending power at the provisional police funding settlement in December.