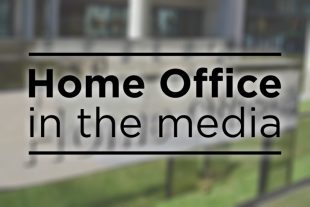 Today's Home Office stories include further coverage of migrants crossing the Channel and comments by Sussex Chief Constable Giles York on his police force.
Migrants crossing the Channel
The Telegraph, Times, Mail, Express and Metro report that according to the Home Secretary a Border Force cutter could be pulled back from the Mediterranean to rescue increasing numbers of migrants trying to cross the Channel in tiny boats.
The Telegraph highlights that he told MPs he is considering deploying the cutter from its humanitarian mission helping the migrant crisis in the Mediterranean to cope with the surge in migrants now crossing the Channel.
All articles claim that people smugglers are telling migrants they must reach Britain before "the borders shut properly" after Brexit.
The Sun reports that an 18-month-old toddler was among the nine migrants found "huddled" in a dinghy in the English Channel yesterday. The article carries comments by Dover and Deal MP, Charlie Elphicke, calling on the Home Office to step up patrols.
A Home Office spokesperson said:
We have stepped up deployments of our coastal patrol vessels along the South-East coast in light of recent events. However, this is not an issue that can be resolved by maritime resources alone.

The Home Secretary has been clear the evidence shows there is organised criminal gang activity behind illegal migration attempts by small boats across the Channel, which we take extremely seriously

We are working across Government and with both domestic and international agencies to respond to this issue. Today the Home Secretary confirmed that a new UK-France Coordination and Information Centre has opened in Calais as part of the ongoing co-operation between the UK and France to tackle criminality at the border.
Sussex Police Force
The Express reports that a Police chief whose force has one of the lowest ratios of officers to public warns hard-up forces are having to "prioritise" only the most serious crimes. According to Sussex Chief Constable Giles York, police are facing increasingly complex demands.
The piece notes that recent cuts have seen Sussex Police strength fall from more than 3,000 officers to 2,549.
A Home Office spokesperson said:
The Government is committed to ensuring that the police have the right tools to do their vital work.

Decisions about how resources are best deployed are for Chief Constables and democratically accountable Police and Crime Commissioners.