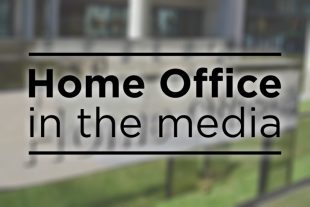 Today's Home Office stories include a report into the sale of stun guns online and a Home Affairs Select Committee report into how asylum seekers are distributed around the UK.
Stun guns for sale online
The Sun reports that electric stun guns can be bought online and imported into the UK for as little as £60.
The report adds that the electric guns can be purchased from Germany and sent through the post, with the method highlighting potential loopholes in Britain's border security.
Border Force seized 729 of the weapons at the UK's borders in 2015/16, it reports.
A Home Office spokesperson said:
We are determined to prevent potentially deadly weapons such as these from reaching the UK's streets.

As well as making physical checks on arriving vehicles and cargo, Border Force works with law enforcement partners, like the National Crime Agency, to stop dangerous weapons at the border.

Our work led to the seizure of more than 10,000 offensive weapons last year.
Asylum policy report
Widespread coverage is given to a Home Affairs Select Committee report, which finds that the burden of providing housing for asylum seekers is not being shared equally between local authorities.
The report, published today, adds that the Government is making "unfair demands of the few councils that have enough accommodation for asylum seekers," the Times reports.
It adds that the report will advise the Home Office "to draw on the experiences of local authorities to better manage the distribution of asylum seekers".
A Home Office spokesperson said:
The UK has a long history of granting asylum to those who need our protection and we are committed to providing safe and secure accommodation while applications are considered.

We consider all requests from those who may have particular vulnerabilities, care needs or health problems that require specialist accommodation.

We also monitor contractors and their accommodation closely and take action – including financial penalties – where issues are not addressed within certain timescales.

We continue to work closely with local authorities on asylum dispersal and have committed to comprehensive engagement with the Local Government Association and Local Authority Chief Executives to review the process.