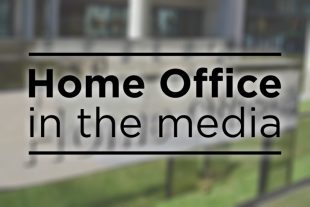 Today's Home Office story includes coverage of migrant boats crossing the English Channel.
Channel boats latest
The Times, Mail and Telegraph lead on reports that the Home Office has requested assistance from the Ministry of Defence in dealing with the rise in attempted English Channel crossings by migrants.
The Times reports that the MoD is preparing to send HMS Mersey "as soon as today" to help patrol the Channel.
Further coverage is given to the arrest last night of two men – an Iranian and a UK national - in connection with the trafficking of migrants across the Channel.
The Financial Times reports the Home Secretary as saying asylum applications by the migrants were likely to be rejected in a bid to deter others "from embarking on the perilous crossings".
It added the Home Secretary's comments in which he questioned why the migrants had not sought "asylum in [their] first safe country".
Home Secretary Sajid Javid said
The situation in the Channel is of grave concern, with people gambling their lives in reckless attempts to reach the UK in unsafe boats and treacherous conditions.

It is vital we strike a balance between protecting them and protecting our borders, ensuring we do not encourage more people to make this dangerous journey.

We have been working closely with our domestic partners and the French for some time to address this issue.

After a rise in activity over Christmas I immediately stepped this up - declaring a major incident and returning to the UK to drive our continued and enhanced response.

I continue to keep the number of Border Force cutters in the Channel under close review, but there is no one easy answer to this complex problem.

That is why I will continue to work closely with all partners to ensure we do even more to intercept these boats before they reach the UK,  to tackle the organised crime gangs that facilitate many of these dangerous journeys, and to deter and protect those driven to make them.