Today's Home Office stories include the announcement of a new task force to tackle corruption and fraud, calls for misogyny to be made a hate crime, and a report that criticises Britain's asylum policy.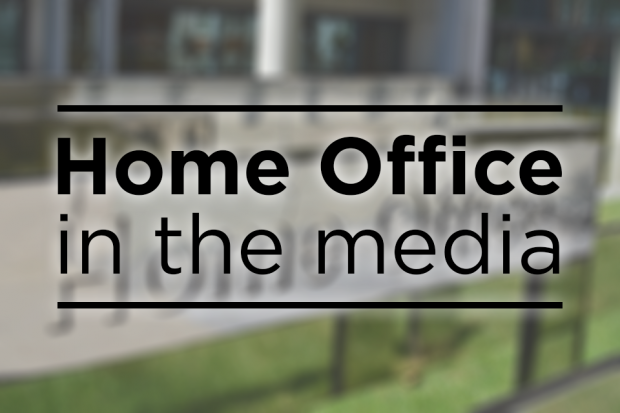 Task force to counter corruption and fraud
There is widespread coverage of the Government's announcement of a new task force which will battle corruption and fraud.
The Home Secretary Sajid Javid and the Chancellor Philip Hammond will chair the task force that will work with senior figures in the financial sector to tackle economic crime, the Times reports.
The unit will cover a broad range of illegal activity which the Home Office estimates to be worth £14.4billion a year.
About £3.5million has been committed by the Home Office to investigate questionable activity via what are called "reformed suspicious activity reports."
The Telegraph reports that almost half a million such reports were made last year according to the National Crime Agency.
Bankers and leading figures from the legal and financial industries will join a range of politicians on the Economic Crime Strategic Board.
Home Secretary Sajid Javid said:
We need to take action on all fronts to target the corrupt fraudsters who are lining their pockets with dirty money and living luxury lifestyles at the expense of law-abiding citizens.

"The Government is already investing millions in the fight against economic crime – but it is crucial we work closely with our financial sector partners to win this battle.

"These criminals threaten the UK's reputation as a world-leading place to do business and we have a joint responsibility to stop them.
Calls for misogyny to be made a hate crime
The Times, Telegraph, Guardian and Sun all report that campaigners and MPs have written to police demanding that misogyny should be made a hate crime.
The Guardian reports that signatories of the letter include MPs Stella Creasey, Jo Swinson and former Home Secretary Jacqui Smith. The paper says the letter calls on Metropolitan Police commissioner Cressida Dick to treat misogyny as a hate crime, following the disclosure that gender hate crime is at least as common as any other hate crime recorded by police.
The Telegraph reports that the letter was also signed by Nottinghamshire Police and Crime commissioner Paddy Tipping, who is calling for other police forces to follow Nottingham's move to record misogyny as a hate crime, which the force has done since 2016.
The Times quotes Chief Constable Sara Thornton of the National Police Chiefs Council as saying that making misogyny a crime "cannot be prioritised when policing is so stretched".
A Home Office spokesperson said:
As part of our Hate Crime Action Plan Refresh we have asked the Law Commission to undertake a review of current hate crime legislation, including whether additional protected characteristics such as gender should be added. The Law Commission will be undertaking a public consultation and we will consider the results of their report in due course.
Britain's asylum policy
Britain is twice as likely as France to admit Iranians into the country as asylum seekers, the Express reports.
Home Office statistics show that 63% of those who applied were given asylum, discretionary leave or humanitarian protection.
Meanwhile, French officials accepted 37% of Iranian applications, the paper reports.
Lord Green, chairman of Migration Watch, is quoted in the article claiming the British system was "less stringent" than the French.
A Home Office spokesperson said:
The UK has a proud history of providing protection to those who need it, however, we are clear that those with no right to be in the UK should return home.

"Since the beginning of 2010 there have been over 345,000 voluntary or enforced returns and we will always seek to return people with no right to be in the UK.