Today's Home Office in the media blog focuses on Jack Shepherd's decision to  hand himself in to the Georgian authorities.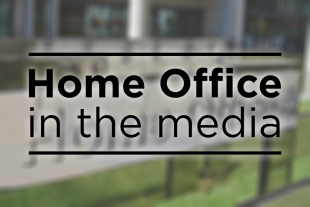 Jack Shepherd speedboat case
There is widespread, prominent coverage of Jack Shepherd's decision to hand himself in to the Georgian authorities after almost ten months on the run.
The 31-year-old was convicted of killing Charlotte Brown when his speedboat overturned on the Thames in 2015. Media report that Shepherd fled Britain in March last year while on bail, but was convicted in his absence and sentenced to six years in prison for the manslaughter by gross negligence.
The case is covered widely in titles including the Times, Mirror and Telegraph. Charlotte's father Graham, 55, said he cried tears of "overwhelming relief" when he heard the news.
The Home Secretary's recent intervention in the case and his Tweet welcoming the capture has been widely reported.
The Metropolitan Police has said extradition proceedings would begin as soon as his identity had been confirmed.
Home Secretary Sajid Javid said:
I welcome the news that Jack Shepherd is in police custody in Georgia. We will seek to swiftly extradite him to Britain. It is vital Charlotte Brown's family see justice.