Home Office stories include the charter flight to Jamaica, the Stansted 15 sentencing and the dispersal of asylum seekers.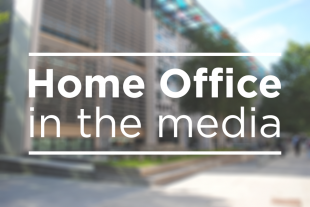 Jamaica charter flight
Further print coverage in the Times, Guardian, Independent and Mail is given to yesterday's charter flight to Jamaica.
The Times reports that at least 15 people were already on board the plane when they were given the reprieve following legal interventions. The Mail put the number at 20.
The papers each carried the Home Office's statement and confirmed that 29 people had been on board the flight when it took off and many also referenced that a number of the foreign national offenders on the flight were convicted of rape, murder and sexual and violent assault.
A Home Office spokesperson said:
On 6 February, 29 serious foreign criminals were flown to Jamaica on a chartered flight.

The crimes committed by the individuals include murder, rape and serious violence. The total combined sentence of their crimes is over 150 years imprisonment.

The law requires that we seek to deport foreign nationals who abuse our hospitality by committing crimes in the UK. This ensures we keep the public safe.
Stansted 15 sentencing
The Telegraph, Guardian, Independent, Metro, Sun and Times carry coverage of the sentencing yesterday of the Stansted 15. The group blocked the take-off of a deportation flight to West Africa in 2017. All of the group avoided prison terms, with three handed suspended sentences.
The Telegraph reported judge Christopher Morgan as telling the group: "In normal circumstances only a normal custodial sentence would have been justified in this case, but in your case I accept that your intentions were to demonstrate."
A Home Office spokesperson said:
We only return those with no legal right to remain in the UK, including foreign national offenders and failed asylum seekers.


We expect people to leave the country voluntarily but, where they do not, the Home Office will seek to enforce their departure.
Asylum seekers housed in UK's poorest communities
The BBC Today programme reported on claims asylum seekers are being housed in some of the UK's poorest communities.
The bulletin followed a feature-length piece on BBC Newsnight last night which reported that many councils are refusing to sign up to help disperse asylum seekers in their communities, leading to a disproportionate number of claimants in certain communities, often in the North of England.
Today reported that the number of asylum seekers in a local authority is not meant to exceed one in 200 of the population, but in some of the UK's most deprived wards, where housing is cheapest, that is being significantly breached.
A Home Office spokesperson said:
We take the wellbeing of asylum seekers and the local communities in which they live extremely seriously. We continue to proactively engage with areas who are not currently involved in dispersal to negotiate their participation and there are now 150 local authorities who have agreed to participate.

Where a local authority agrees to take part, accommodation providers must consult with them on all properties they intend to use as asylum accommodation. Through this process local authorities can raise any concerns they have."

We are currently committed to a series of meetings with local authority Chief Executives to understand and address concerns that they have raised about the asylum dispersal system.