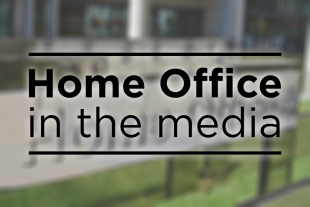 Today's Home Office stories include a Children's Commissioner report into the grooming of young people by criminal gangs and the latest on English Channel migrant crossings.
Thousands of children 'left at risk from gangs'
Widespread coverage is given to a report by the Children's Commissioner that found up to 34,000 children linked to gangs have been the victims of violent crime in the past year.
The Guardian reports that only a tiny fraction of these – around 6,500 – are known to the authorities.
The report, by Anne Longfield, equated the problem with the sex abuse grooming scandal, the Telegraph adds, noting that the numbers average out at ten children for every secondary school in the country.
It goes on to quote West Midlands PCC David Jamieson, who described the violent crime epidemic as a "national emergency".
Speaking to the Today programme, the Commissioner said the majority of the 34,000 children she cited are "hidden from view" and not stereotypical gang members. She added that they are often susceptible to domestic abuse and mental health issues.
A Government spokesperson said:
We are committed to protecting vulnerable children by cracking down on the ruthless gangs that seek to exploit them and by offering them the support and skills they need to lead lives free of violence.

That is why we launched the Serious Violence Strategy, which puts a greater focus on early intervention alongside a tough law enforcement response.

We have proposed a new statutory duty on partners across education, social services and health to work together to tackle violence as part of a public health approach, and are providing £220m to support children and young people at risk of becoming involved in violence and gangs.
Migrant boats crossing
The Mail and Telegraph report on the latest migrant boat crossing, which saw a group of nine Iranian men intercepted in the English Channel.
It was the fourth consecutive day that a boat has been intercepted, the Telegraph notes, adding that all the men were medically well and were being processed by Immigration Enforcement staff.
It went on to quote the Home Secretary's comments before the Home Affairs Select Committee yesterday in which he said 138 had succeeded in reaching the UK by boat in December. The number dropped to 47 in January but increased to 79 in February.
A Home Office spokesperson said:
Anyone crossing the Channel – one of the busiest shipping lanes in the world – is taking a huge risk with their life and the lives of their children.

Since the Home Secretary declared a major incident in December we have tripled the number of cutters operating in the Channel, agreed a joint action plan with France and increased activity out of the Joint Coordination and Information Centre in Calais.