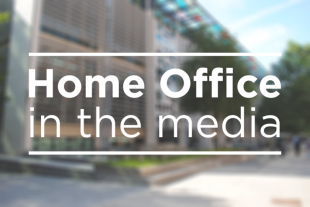 Today's Home Office related stories focus on a rise in the number of modern slavery cases, mosque security and a bail supercomplaint.
County lines behind rise in modern slavery cases
The Independent, Mail, Express and others report on the latest modern slavery statistics released by the National Crime Agency. Reports generally lead on the fact that county lines networks are contributing to a rise in the number of cases. The Today programme also covered the statistics.
Instances of modern slavery involving child victims from the UK rose from 676 in 2017 to 1,421 last year. Of these, 987 cases were linked to labour exploitation, including by county lines and other criminal gangs.
Widely carried is a quote from NCA deputy director Roy McComb, who says much of the rise may be attributable to greater awareness and more reporting.
A Home Office spokesperson said:
Modern slavery is an abhorrent crime that this government is committed to tackling. Our world-leading Modern Slavery Act has given law enforcement agencies the tools they need to pursue the perpetrators of modern slavery and support victims.

Since the act became law, the number of live operations tackling modern slavery have greatly increased, as have the number of people referred to the National Referral Mechanism.

The Government is committed to supporting victims of modern slavery. We are reforming the National Referral Mechanism to improve the support available to victims before, during and after the NRM process.
Mosque security
The Telegraph, Sun, Independent and Mirror report that mosques are to share in a multimillion pound government cash injection to boost security after the New Zealand terror attack.
According to the articles, the Home Secretary announced cash to provide protective security at places of worship, including mosques, would double to £1.6 million in the next year. He also pledged a new £5 million fund for security training amid a rise in hate crime attacks in England.
The Home Secretary Sajid Javid said:
The horrific events in New Zealand are a direct attack on the values of tolerance and freedom of worship that unite us all.

Nobody should ever fear persecution of their faith and it's vital we stand together to reject those who seek to spread hatred and divide us.

I know many Muslim communities are feeling vulnerable and anxious. But they should seek comfort from knowing we are doing everything to tackle hate and extremism.

That's why we are doubling next year's places of worship fund - providing physical protection as well as peace of mind.
Domestic abuse pre-charge bail supercomplaint
The Sun and Times report that police have been accused of "systemically failing" rape and domestic abuse victims by failing to use powers intended to stop suspects contacting them.
Coverage notes that the Centre for Women's Justice (CWJ) said that since reforms in April 2017 most rape suspects were released without bail conditions. The articles highlight that the Centre sent a supercomplaint, warning that "policing is significantly harming the public interest", to the watchdog.
A Home Office spokesperson said:
Domestic abuse is a devastating crime that shatters the lives of victims and families. We are determined to ensure anyone facing the threat of domestic abuse has somewhere to turn to.

We have been encouraged by the significant improvements in the police response to domestic abuse, with prosecutions and convictions up by 20% and 28% respectively since 2010.

Our landmark draft Domestic Abuse Bill and consultation response published in January includes measures to help the police tackle domestic abuse, including the creation of a Domestic Abuse Protection Notice and Order and training for police. We will also continue to work with partners across the criminal justice system, including the National Police Chief's Council to ensure bail conditions are being imposed where appropriate- including to protect victims.