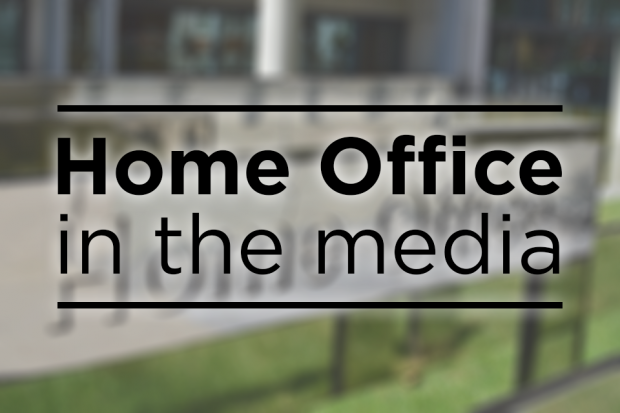 Today's Home Office stories include the extradition of Jack Shepherd, an email error related to the EU Settlement Scheme and a YouGov survey of the public's concern around crime.
Jack Shepherd
There is widespread coverage today in print and broadcast that Jack Shepherd has arrived back in the UK to face a six-year jail sentence over the death of Charlotte Brown, following his extradition from Georgia.
Coverage notes this follows him being on the run for 10 months following his conviction for manslaughter by gross negligence.
The articles cover Shepherd's comments at Tbilisi airport saying that he is "terribly sorry" for his involvement in Charlotte's death and "subsequent actions which have made things worse".
The Metropolitan Police has released a statement this morning noting that Shepherd was arrested at Gatwick Airport after arriving from Georgia at 21:22 on Wednesday, 10 April. It notes that he has been subject to an International Arrest Warrant.
Home Secretary, Sajid Javid, said:
"My thanks to the Georgian authorities for their assistance in extraditing Jack Shepherd to the UK. Charlotte Brown's family have endured immeasurable pain & are now one step closer to getting the justice they deserve."
EUSS email error
The programme has reported that 240 peoples' names and email addresses were mistakenly shared after being contacted in relation to the EU Settlement Scheme.
The individuals' contact details were not blind copied into the email meaning other recipients of the email could see them, the BBC reported.
A Home Office spokesperson said:
"The EU Settlement Scheme is straightforward to use, with applicants only needing to complete three key steps - prove their identity, show that they live in the UK, and declare any criminal convictions. The Scheme, which is free of charge, is performing well and over 400,000 EU citizens have already applied, with over 50,000 applications received on the opening weekend.
"A declaratory system would cause confusion. We cannot have a situation where, in years to come, EU citizens who have built their lives here find themselves struggling to evidence their rights to live and work in the UK.
"In communicating with a small group of applicants, an administrative error was made which meant other applicants' email addresses could be seen. As soon as the error was identified, we apologised personally to the 240 applicants affected and have improved our systems and procedures to stop this occurring again."
Crime overtakes health as number one public concern
Crime has overtaken health for the first time as the domestic issue of most concern to the public following the surge in knife deaths and attacks, The Sun and Telegraph report.
A new YouGov poll reveals that up to 36 per cent of the public said crime was the most important issue, excluding Brexit, that Britain faced in the past month, eight points ahead of health on 28 per cent.
Until last month, health, immigration and the economy had been consistently ahead of crime, with up to five times as many people concerned about the NHS than crime.
The Telegraph notes that the Government recently announced £100million of funding for police to tackle knife crime.
A Home Office spokesperson said:
"The chances of being a victim of crime remains low. But we accept certain crimes, particularly violent crime, have increased and we are doing everything possible to reverse the trend.
"We recognise the demands that police face, which is why the Home Office has increased funding for the police by over £1 billion this year, including council tax and the new funding to tackle serious violence. This is the biggest increase in police funding since 2010."