Today's Home Office in the media stories include the Home Office response to the National Crime Agency's annual strategic assessment, as well as a report that finds sport can be used to lead young people away from violent crime.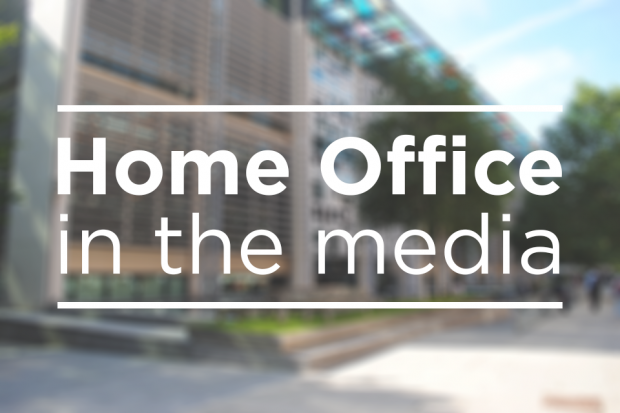 NCA strategic assessment
There is widespread coverage in print and broadcast reporting on comments made by the National Crime Agency (NCA) chief Lynne Owens who says an extra £2.7 billion is needed to fight the growing serious and organised crime threat. Coverage notes that serious and organised crime claims the lives of more people than terrorism, natural disasters and war combined with an estimated cost to the UK of £37bn a year.
The articles highlight that Lynne Owens was today to challenge ministers as she launched the agency's annual national strategic assessment mapping out dangers from cybercrime, child sexual exploitation, drugs and other serious and organised crime. The majority of articles carry her comments saying that "we need significant further investment to keep pace with the growing scale and complexity. Some will say we cannot afford to provide more investment, but I say we cannot afford not to".
The Express splash highlights that the NCA's annual assessment reveals Russian organised crime groups now pose the biggest cyber threat to the UK as they use trojan viruses to target online bank accounts. It also exposes the scale of online child sex abuse, with almost three million global accounts registered on dark web sites.
Security Minister Ben Wallace said:
As the National Crime Agency set out, serious and organised crime is a fast-evolving and highly complex threat to our national security, impacting on our people, on our communities and on our businesses across the country. It is estimated to cost the UK at least £37 billion each year.

Our Serious and Organised Crime Strategy published in November 2018 set out how we will mobilise the full force of the state to target and disrupt serious and organised crime. As criminals' use of technology evolves so must our response. We continue to invest in the right capabilities and tools in law enforcement, across Government and in partnership with the private sector.
Boxing to keep youth out of crime
The Mail, Star, Mirror and Metro report that boxing and martial arts should be harnessed to help fight knife crime, according to a new study by the Commons Digital, Culture, Media and Sport Committee.
The Mail references that the report states taking part in activities could also be the key to solving social problems in health, education and urban regeneration. It carries comments by the Committee's chairman Damian Collins saying that "we cannot break the debilitating cycle of gang violence and knife crime just by arresting those who commit offences".
A Government spokesperson said:
Sport and culture have the power to increase physical and mental wellbeing, and connect people of all ages and backgrounds.

We have recently renewed our commitment to use sport to tackle youth violence and knife crime, and are working with the Premier League, sports governing bodies and Sport England to reach more young people.

We are also developing a new cross government plan to ensure that all children have access to quality PE, sport and physical activity sessions and clubs – in and out of school, and are investing almost £500 million between 2016 and 2020 to support a range of music and arts education programmes.