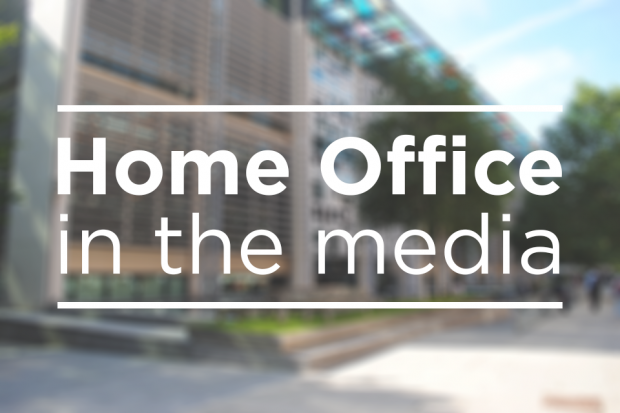 Today's leading stories include a report on facial recognition technology and a cocaine seizure at Harwich port.
Facial recognition
The Times, Mail, Independent, Guardian and Sky News report that police are facing calls to halt the use of facial recognition software to search for suspected criminals in public after independent analysis found matches were incorrect in a majority of cases and that the system was likely to break human rights laws.
According to the reports, academics from the University of Essex were granted access to six live trials by the Metropolitan Police in Soho, Romford and at the Westfield shopping centre in east London.
A Home Office spokesperson said:
We support the police as they trial new technologies to protect the public, including facial recognition, which can help them identify criminals.

The Government believes that there is a legal framework for the use of live facial recognition technology, although that is being challenged in the courts and we would not want to pre-empt the outcome of this case.

However, we support an open debate about the balance between public protection and privacy, and the Home Office is reviewing options to simplify and extend the current governance and oversight arrangements for biometrics.
Cocaine seizure
The Mirror reports that Border Force officers have seized cocaine worth up to £30 million that was disguised as meat and found in the trailer of a lorry.
According to the paper, officers intercepted the load of more than 300kg of the drug at the port in Harwich, Essex, on June 26 in a vehicle that had travelled from Holland.
Jenny Sharp, Assistant Director Border Force, said:
This is just one example of the crucial work that Border Force officers do every day to help keep the UK safe. Detections of dangerous Class A drugs such as this are testament to their dedication and expertise.

Illegal drugs have a significant impact on our society, being the root cause behind countless burglaries, thefts and robberies. They are also used as a commodity by organised criminals linked to violence and exploitation of the vulnerable.

Working with our colleagues at the National Crime Agency (NCA) we are determined to do all we can to stop drug traffickers. Those convicted of drug importation offences face considerable prison sentences.