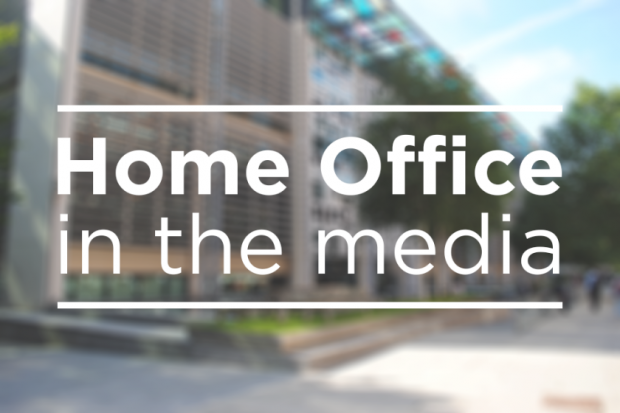 Today's leading stories include reports into the victims of trafficking and a high court ruling on the use of child informants.
Trafficking victims
The Guardian reports on two publications concerning the detention of suspected victims of trafficking. According to the reports, suspected victims of trafficking have been held in immigration detention centres by the Home Office instead of being looked after in safe houses and provided with a package of support.
The Independent also notes that a relative increase in the number of Chinese women detained contrasts sharply with the general trend of the number of people in detention falling.
A Home Office spokesperson said:
Detention is an important part of the immigration system – but it must be fair, dignified and protect the most vulnerable.

We have made significant improvements to our approach in recent years, but remain committed to going further. We continue to explore alternatives to detention, increase transparency around immigration detention, further improve the support available for vulnerable detainees and initiate a new drive on detainee dignity.

Any person we encounter who claims they are a victim of trafficking will, with their consent, be referred to the National Referral Mechanism. Their claim will then be considered by a trained specialist.
Child 'spies' are lawful
The Guardian, Independent and BBC Online report that the High Court has ruled that police recruitment and the use of child informants to penetrate "county lines" drug gangs and other criminal or terrorist organisations is lawful.
According to the articles, Mr Justice Supperstone acknowledged children were more vulnerable than adults but dismissed claims that their human rights were being breached.
Security Minister, Ben Wallace, said:
Today the High Court has found in our favour on all counts in the challenge to the use of juvenile covert human intelligence sources (CHIS). The court recognised that the protections we have written into law ensure the best interests, safety and welfare of the child will always be paramount.

Juvenile CHIS have been used fewer than 20 times since January 2015 but they remain an important tool to investigate the most serious of crimes. They will only be used where necessary and proportionate in extreme cases where all other ways to gain information have been exhausted.