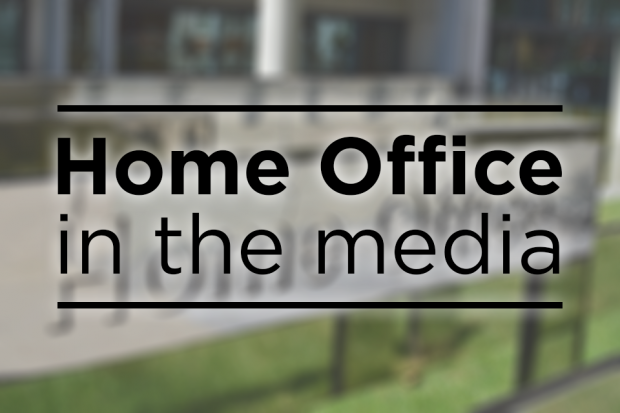 Today's leading stories include a High Court ruling on surveillance laws and a report on online grooming.
Investigatory powers legal challenge
The Guardian and Mirror Online report that the civil rights group Liberty has lost its latest high court challenge against surveillance laws.
In its challenge to parts of the Investigatory Powers Act (IPA) 2016, the organisation argued that government surveillance practices were incompatible with human rights law.
In a judgement on Monday, Lord Justice Singh and Mr Justice Holgate dismissed Liberty's claim. The judges concluded that the IPA includes several "safeguards against the possible abuse of power".
More information on the Investigatory Powers Act is available on our fact sheet.
Security Minister Brandon Lewis said:
It is vital that our law enforcement and security and intelligence agencies have the tools they need to identify and stop criminals and terrorists but it is equally vital that we strike the right balance between privacy and security.

The Investigatory Powers Act not only made sure these tools were fit for the modern threats we face but also introduced a series of world-leading protections to ensure powers were only used where necessary and proportionate to keep us all safe.

The Court has ruled today that, thanks to the rigorous oversight and safeguards we have in place, we have created a lawful regime that keeps the public safe and protects their right to privacy.
NSPCC report on online grooming
The Sun, Telegraph, Times, Mirror and Express report that more than 200,000 secondary school children have been groomed online, according to research by the NSPCC.
The coverage adds that four per cent of 11 to 17 year-olds had either sent, received or been asked to send sexual content to an adult on social media networks.
The NSPCC is calling for a new independent regulator and also wants the algorithms which connect social media users with mutual friends to be switched off for children.
The Times reports that the Government plans to impose a duty of care on companies to ensure children are protected.
Ministers will attend an industry roundtable on countering online child sexual exploitation and abuse, which will involve discussions with industry leaders such as Facebook, Google and Microsoft, as part of the Five Country Ministerial summit.
A Home Office spokesperson said:
Online child sexual exploitation is an abhorrent crime and one which the Government is committed to stamping out.

That is why the Home Secretary is this week hosting technology firms and our international security allies to work on how we can make online platforms safer.