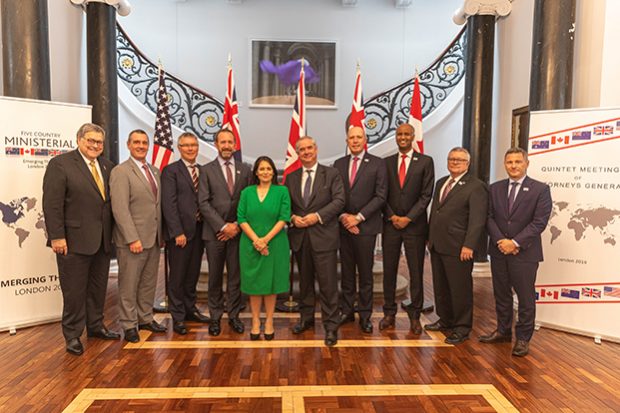 This week, the Five Country Ministerial meeting of Home Affairs, Interior, Security and Immigration ministers from Australia, Canada, New Zealand, the United Kingdom and the United States met in London to discuss emerging security threats.
On Tuesday, they were joined by the 'Quintet' of Attorneys General to discuss some of these challenges. Following the meetings, the Home Secretary Priti Patel wrote in the Telegraph, reflecting on the discussions. In particular, she outlined the concerns where technology companies deliberately design their systems in a way that precludes any form of access to content, even in cases of the most serious crimes.
In her article, the Home Secretary said:
We stand at an exciting but pivotal juncture for our nation. We have a fantastic opportunity ahead of us to change and strengthen our bonds with countries in Europe and around the globe.

There is so much for the UK to be proud of – a world-class, modern economy and a free, fair and tolerant society. We are a global power, active and responsible on the world stage. This will never change. But the world around us is changing. It has become more volatile and competitive. Political and economic influence is undoubtedly more fluid than ever.

Nowhere has this been starker than the rapid development of technology. Over the last decade, the technological landscape has transformed beyond all recognition.

This tech has unquestionably improved lives across the world, but there is a darker side, some of which is plain to see.

We have seen a terrorist in New Zealand livestream his attack, amplifying the horror internationally. Foreign governments are using disinformation on social media to undermine confidence and sow division in our societies. In the UK alone, there has been a 1,000 per cent increase in referrals to the National Crime Agency about online child sexual exploitation and abuse since 2013.

These issues are central to the discussions I have had with my counterparts from Australia, New Zealand, Canada and the United States this week.

I am delighted that one of my first opportunities as Home Secretary was to bring together our closest allies to consider how we unite to confront the emerging and complex threats we all face. I was left in no doubt that we are, and will remain, a vital player in keeping the world safe and secure after 31 October.

There was lots to discuss and, as a new Home Secretary, lots to learn. It is clear a key issue underpinning many of the emerging threats we face is the debate around end-to-end encryption.

Strong encryption enables commerce and protects us online. We all have legitimate concerns over the way our personal data is used and stored and it is right that there are protections to stop the theft and manipulation of our private information.

Indeed, we urged businesses to embed the safety and security of users into the design of their products and services.

However, where systems are deliberately designed using end-to-end encryption which prevents any form of access to content, no matter what crimes that may enable, we must act.

This is not an abstract debate: Facebook's recently announced plan to apply end-to-end encryption across its messaging platforms presents significant challenges which we must work collaboratively to address.

The use of end-to-end encryption in this way has the potential to have serious consequences for the vital work which companies already undertake to identify and remove child abuse and terrorist content. It will also hamper our own law enforcement agencies, and those of our allies, in their ability to identify and stop criminals abusing children, trafficking drugs, weapons and people, or terrorists plotting attacks.

As the US Attorney General, William Barr, made clear when he spoke about encryption last week, securing the virtual world must not come at the expense of making us more vulnerable in the real world.

On Wednesday, sitting alongside our attorneys general, we will call on tech companies, including Facebook, to work with us urgently on detailed discussions.

We want to focus on reasonable proposals, so that they implement changes in a way that does not undermine the safety of their own users and the wider public but also respects their business incentives and their users' privacy.

As we increase the number of police officers, we cannot see their hands tied by eroding their investigative tools. We need to equip the police with the right powers and resources to do their job.

We recognise, however, these must be balanced with proportionality and the appropriate safeguards. We have written into law world-leading protections governing the use of these powers which this week, the High Court found to be compatible with the right to privacy.

Technical advances transcend borders and so do the challenges they bring, but I know that working in partnership with industry and our allies and using technology for good will be part of the solution.