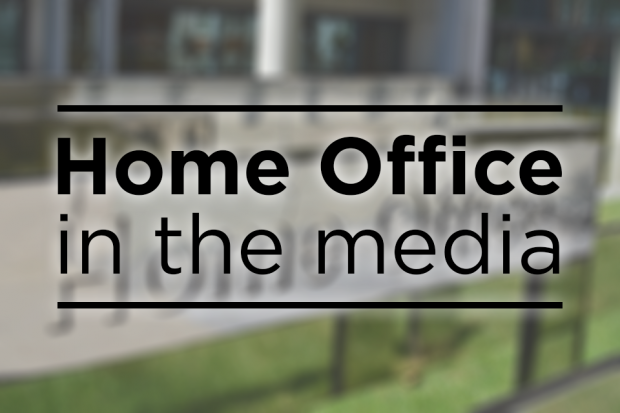 Today's top stories include an issue with an individual's biometric passport, and the seizure of heroin worth more than £40 million.
Biometric passport error
The Guardian reports that a university professor has criticised the Home Office after being stopped at airports about 100 times in seven years, despite having no criminal record.
David Baker, a specialist in neuroimmunology, told the paper that he was once stopped three times in a single week by Border Force whilst travelling for work.
He was unable to pass through the ePassport gates and was instead diverted to an officer so his passport could be checked manually.
Mr Baker further told the Guardian that he believes he is being confused with one or more individuals with the same name who have criminal convictions.
A Home Office spokesperson said:
Border Force's priority is to maintain security on the border at all times, which is why all those arriving in the UK are examined and checked against Home Office databases.

Our ePassport gates work by using facial recognition technology, as well as biographical and security checks. There are a number of technical and security reasons why a passport may fail to be accepted at automated border controls.
Heroin seizure
The Telegraph, Guardian, Express, Mirror, Mail and Sun report that heroin worth more than £40 million has been seized from a ship docked at Felixstowe in an operation involving Border Force and the National Crime Agency. There is also coverage on both BBC and ITV News online.
The drugs, which were discovered packed into boxes and hidden among towels, constitute one of the largest ever consignments seized in the UK. It is thought that at least some of the drugs were to be sold in the UK, potentially fuelling county lines gangs.
The Telegraph reports that once the drugs had been removed, the container was returned and the ship was allowed to continue its journey under covert surveillance. After the vessel docked in Amsterdam, Dutch police arrested those who attempted to unload the container. As well as these two arrests, the National Crime Agency arrested a man in the UK.
Immigration Minister Seema Kennedy said:
I would like to commend the efforts of Border Force, the National Crime Agency and their international partners in taking such a significant quantity of dangerous Class A drugs out of circulation.

This is one of the largest ever UK seizures of heroin – a drug that can devastate lives, ruin families and damage communities.

It is testament to the world-leading skill and expertise of the UK's law enforcement officers that this haul will never make it onto our streets.