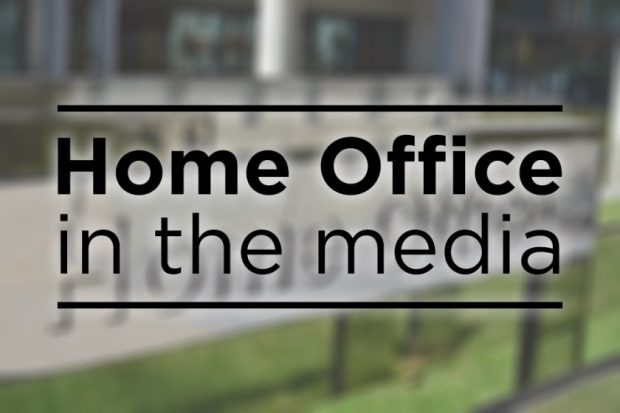 Today's top media stories include county lines drug gangs, the expansion of stop-and-search powers, the use of restraint during deportations and citizenship fees.
County Lines drug gangs
BBC Radio 4's Today programme carried a report on the rising prevalence of drug crime in the suburbs and rural areas as a result of county lines gangs.
The BBC investigation found that incidences of drug crime in inner city areas has generally declined since 2014, with this decrease being counter-balanced with increases in provincial towns. The programme referenced examples of declines in drug crime in Manchester, Leeds and London, compared to increases in towns and cities such as Huddersfield, Lincoln and Colchester.
The report added that there are 2,000 county lines across the UK, with more than 10,000 children estimated to be vulnerable.
Separately the Times, the Sun, Express, Metro, Telegraph and Mirror report that county lines gangs are recruiting children by approaching them in fried chicken shops with the offer of free food.
A Home Office spokesperson said:
We are working to disrupt the drug-dealing county lines gangs that are devastating our communities and put an end to the exploitation of vulnerable children.

Through the Serious Violence Strategy we have provided £3.6 million to establish the National County Lines Co-ordination Centre which has resulted in 1,600 arrests and 2,100 individuals protected.

We are investing over £220 million to support early intervention projects, which will help to support those at risk of county lines exploitation.
Stop and search
The expansion of police stop-and-search powers received continued prominent coverage this morning, and was reported in the Guardian, Mirror and on the front page of the i.
The Guardian names expanded Section 60 powers as the lead measure in a series of three initiatives launched by No 10 to tackle crime, including the extension of jail terms and the building of new prisons.
It reports that stop-and-search is a "controversial tactic" and added that a Home Office study had previously found "no evidence that it had contributed to reducing crime levels".
An editorial in the Guardian said that stop-and-search "won't stop violent crime".
Home Secretary Priti Patel said:
We are experiencing a knife crime epidemic and I am determined to put a stop to it.

Police chiefs are clear - stop and search is a vital tool in combatting the scourge of serious violence and keeping people safe.

Today I am giving them my full support and more police authority to approve stop and search to halt this terrible crime in its tracks.
Restraint during deportation
Hundreds of people deported from the UK were restrained by a variety of methods including shackles, the Guardian, Today programme and Mirror report.
According to the coverage, restraints were used 447 times from April 2018 to March 2019. The information on the use of rigid-bar handcuffs, leg restraints and waist-restraint belts was provided to the Guardian following a Freedom of Information request.
It shows that in 335 cases, more than one form of restraint was used at the same time. In 102 cases, three different forms of restraint were used. The Guardian reports that this is despite Home Office policy stating that there is a presumption against the use of restraint, and that risk assessments need to be carried out first.
The coverage further states that Home Office subcontractors who escort deportees are trained to use such restraints.
It follows a report published by the Inspectorate of Prisons on Friday into the use of restraints on a charter flight to Nigeria and Ghana earlier this year.
A Home Office spokesperson said:
The dignity and welfare of all those in our care is of the utmost importance, as is the safety of individuals and those around them.

We keep the use of restraints during escorted removals under review and we look at all removals where force is used to ensure that techniques are used proportionally, that they are justified, and are used for the minimum period required.
Citizenship fees
The Home Office has been accused of profiteering from soaring immigration fees that made the department £500 million last year, the Times front page reports.
According to the paper, the charges levied on hundreds of thousands of people for British residency and citizenship have risen sharply in the past five years, with profits increasing by 91 per cent.
The coverage states that the rising fees have a particular impact on the children of migrant parents, who must pay £1,012 to become British citizens. This has risen by 51 per cent since 2014, which the Times reports brings the Home Office a £640 profit for each application.
A Home Office spokesperson said:
The Home Office does not make a profit from application fees.

Visa, immigration and citizenship fees are set at a level that helps provide the resources necessary to operate our border, immigration and citizenship system, to reduce the burden on UK taxpayers.