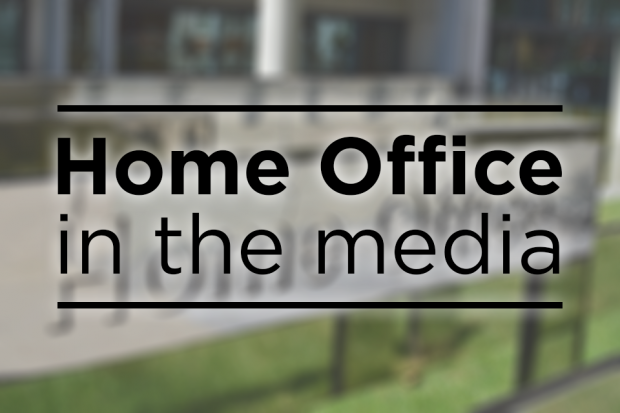 Today's Home Office media stories include EU citizens and freedom of movement, and police use of Tasers.
Freedom of movement
There is further coverage today on the issue of EU citizens and freedom of movement in the event of a no-deal Brexit.
The Mail reports that in a no-deal scenario, rules giving EU citizens the right to enter the UK to live, work or study will be scrapped on October 31, and the number of migrants arriving would be "democratically controlled" according to the Prime Minister.
The Sun reports the Prime Minister has ordered the Home Office to draw up new powers to enforce much tougher criminality rules for EU citizens, allowing them to be ejected if they have been sentenced to a year or more in prison.  The Times reports that EU migrants with a criminal record could be barred from the UK, as Ministers plan 'tougher criminality checks' to bar serious offenders from entering the EU.
The Guardian reports that plans to end freedom of movement have triggered anxiety and confusion among European nationals in the UK, amid concern that they could be caught up in "hostile-environment policies".
EU citizens and their families still have until at least December 2020 to apply to the EU Settlement Scheme.
Read our fact sheet on EU citizens and freedom of movement.
A Home Office spokesperson said:
EU citizens and their families still have until at least December 2020 to apply to the EU Settlement Scheme and one million people have already been granted status.

Freedom of movement as it currently stands will end on 31 October when the UK leaves the EU, and after Brexit the Government will introduce a new, fairer immigration system that prioritises skills and what people can contribute to the UK, rather than where they come from.
Tasers for police officers
The Guardian and Express report that Chief Constable Nick Adderley, of Northamptonshire Police, has said he will arm all his police officers with Tasers to fight back against "lawlessness" in Britain.
The Express splash states that Mr Adderley's force will become the first in Britain to issue Tasers as standard, in a move backed by his police and crime commissioner.  A recent Police Federation Survey found 94% of officers said Tasers should be issued to more front-line officers. The Express reports that Home Office figures show the "conducted energy devices" were used in 17,100 incidents in the year to March 2018, up from 11,300 the year before. However, in 85 per cent of cases they were not discharged.
The Sun reports that currently of the UK's 123,000 police officers, only 17,000 are Taser-trained. Mr Adderley said it would take between 18 month and two years to train and equip all of his officers, at an initial cost of £220,000.
A Home Office spokesperson said:
The Government has announced the recruitment of 20,000 additional police officers over the next three years, and we are working to ensure forces have the resources, tools and powers they need to keep people safe.

Taser is an important tactical option for officers facing violent situations, and it is for Chief Officers to determine the number of devices and specially trained officers they need.