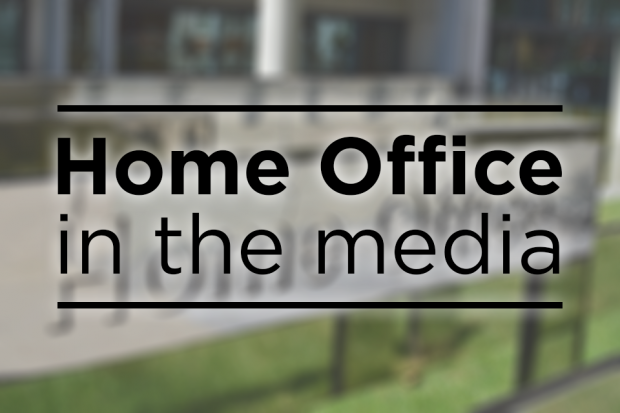 Today's Home Office media stories include the Home Secretary's speech at the Police Superintendents' Association conference, and Tasers being given to volunteer constables.
Home Secretary Police Superintendents' Association speech
The Home Secretary will today outline a new Police Covenant to halt the "epidemic" of attacks of officers, the Mail reports.
The measure will focus on health, wellbeing and support for officers injured or killed in the line of duty, the reporting adds.
Addressing the Police Superintendents' Association (PSA) conference today, the Mail reports that the Home Secretary will say: "We want a better deal for police and a worse deal for criminals. We want to cut crime and lawlessness."
Among other measures the Home Secretary will reportedly look at urging the Sentencing Council to review punishments for those who attack officers.
Volunteer constables to be armed with Tasers
The Times and Daily Star report that volunteer police officers are to be armed with Tasers for the first time.
The Times says that special constables in Kent are being trained to use Taser as part of moves across the service to provide more officers with the equipment. The paper reports that it is expected that the National Police Chiefs' Council (NPCC) will soon give approval for special constables on patrol to be deployed with them.
The Star says that fears have been raised over the plans, reporting that campaigners like Amnesty UK have warned that "Tasers in the hands of inadequately trained officers would inevitable means more mistakes, more misuse and more tragedy".
A Home Office spokesperson said:
We are working to ensure the police have the resources, tools and powers they need to keep themselves and the public safe.

The Prime Minister and Home Secretary have launched a national campaign to recruit 20,000 new officers and police funding has increased by over £1 billion this year, including money from council tax and to tackle serious violence.

Taser is an important tactical option and all 43 forces have officers who can use it. As with the deployment of all police resources, it is down to Chief Constables to decide how many of their officers are trained to use Taser based on their strategic assessment of threat and risk.