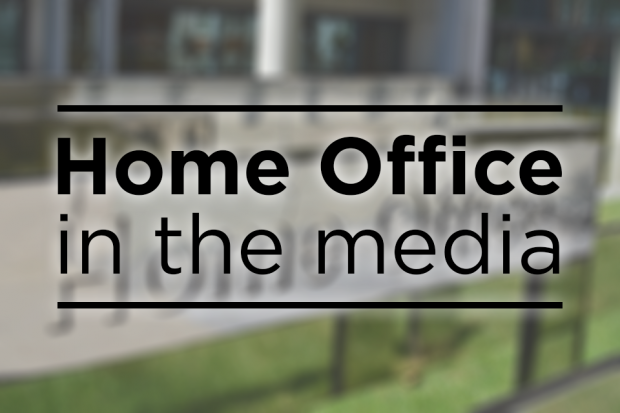 Today's Home Office media stories include an announcement international student visas, migrant boat crossings, and a report on child grooming online.
International students and work visas
There is widespread coverage in the Guardian, FT, Times, Telegraph, Sun, City AM, BBC Breakfast and on the Today programme noting that the Prime Minister will announce that international students are to be offered a two-year work visa after graduating from a British university, "overturning a key plank of Theresa May's restrictive immigration policies".
Coverage notes that currently, graduates with bachelors or master's degrees are allowed to look for work for only four months but from next year all international graduates could qualify for a two-year period to work in the UK, increasing their chances of finding long-term employment after studying.
Coverage also notes that the plan has been welcomed by universities with Alistair Jarvis, Chief Executive of Universities UK, saying it was a "positive step". However, Alp Mehmet, the Chairman of Migration Watch UK, called it a "retrograde" action.
Home Secretary Priti Patel said:
The new Graduate Route will mean talented international students, whether in science and maths or technology and engineering, can study in the UK and then gain valuable work experience as they go on to build successful careers.

It demonstrates our global outlook and will ensure that we continue to attract the best and brightest.
Migrant crossings
There is coverage in the Telegraph, Sun, Mail, Mirror, Independent, and on BBC Breakfast and Today programme of migrant boats crossing the Channel yesterday.
The coverage notes there were six separate boats yesterday, which included women and children, and the migrants were from Iran, Iraq, Turkey, Afghanistan, Ethiopia, the Philippines and Vietnam.
There is speculation in coverage of what is driving the crossings with claims that it is being driven by Brexit, calm seas and people smugglers.
A Home Office spokesperson said:
Crossing the Channel in a small boat is a huge risk. The criminal gangs who perpetuate this are ruthless and do not care about loss of life.

We are working closely at all levels with the French authorities to tackle this dangerous and illegal activity. In addition, Border Force cutters are patrolling the Channel and we have already deployed equipment including drones, CCTV and night vision goggles.

Last month the Home Secretary and her French counterpart agreed to intensify joint action to tackle small boat crossings in the Channel. This includes drawing up an enhanced action plan to deploy more resources along the French coast to intercept and stop crossings.
Rise in online child grooming
There is coverage on broadcast and in the Telegraph, Star, Sun, Metro and Independent of a report by the NSPCC that shows a growing number of children online are being groomed.
The Telegraph reports that the NSPCC has found through a series of Freedom of Information requests that the number of grooming offences recorded by police surged by more than a third last year, from 3,217 to 4,373. The charity also found that 20 per cent of victims were under 12 years old, despite the minimum age for use of the platforms being 13, the paper says.
The Today Programme reports that 70 per cent of cases were on Facebook and Snapchat owned apps, and Instagram has overtaken Facebook to be the platform where children are most at risk of being contacted by sexual predators.
A Government spokesperson said:
Grooming children online is a sickening crime and the Government is committed to stamping it out.

We have taken strong action to tackle this vile abuse, from developing AI tools to identify and block grooming conversations to our Online Harms White Paper, which will place a legal duty of care on social media companies to protect their users.