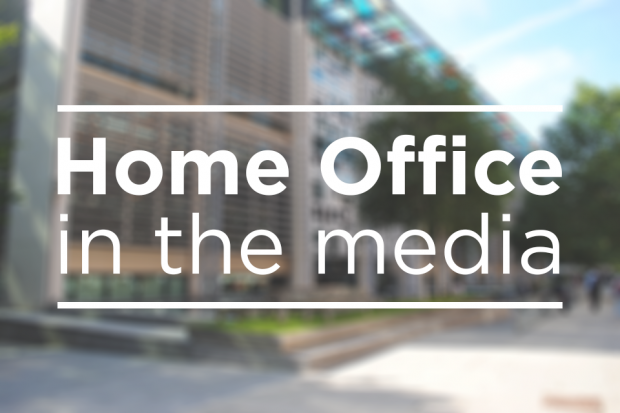 Today's top stories include coverage on fast-track visas, family reunion for refugee children and the Fishmongers' Hall attacker.
Fast-track visas
There is coverage in several of the papers today on the announcement that the number of fast-track fellowships that allow scientists from abroad to undertake research at UK universities will double from 62 to more than 120.
The Telegraph reports the Home Office has expanded the number of scientific programmes qualifying for a Tier 1 (Exceptional Talent) visa with immediate effect.
The paper explained that scientists who receive these fellowships will only need to provide a letter from the relevant funding organisation, which will see them fast tracked to the Home Office visa application stage where immigration checks will be carried out.
Our press notice on the announcement can be viewed here.
Family reunion for refugee children
The Guardian reports that charities in France and Greece are warning that the loss of family reunion rights for unaccompanied asylum-seeking children will leave them with "no options" except taking dangerous routes and using smugglers.
The Guardian states that the Home Office said in September that family reunion would end immediately if there was a no-deal Brexit. It adds that until Boris Johnson's announcement, campaigners believed the EU law would be replaced during negotiations for a post-Brexit Britain.
A Government spokesperson said:
We have a proud record of helping vulnerable children, granting protection to 41,000 since 2010 and doing more than the vast majority of EU countries to help unaccompanied minors.

Protecting vulnerable children will remain our priority after Brexit and this new clause reaffirms our commitment while clarifying the role of Parliament and Government in negotiations.
Mentor 'warned officials' about Fishmongers' Hall attacker
The Telegraph, Express, Mirror and Star all report on comments made by a former Metropolitan Police officer who reportedly spent 50 hours mentoring the Fishmongers' Hall attacker prior to the attack.
Following up from an article in the Sunday Times the papers report that the unnamed mentor said that Usman Khan maintained a "suspiciously rehearsed" persona during sessions following his release from prison in December 2018.
It is reported that Khan persuaded officials to relax his travel ban so that he could attend the rehabilitation conference in London Bridge where he fatally stabbed Jack Merritt and Saskia Jones.
A Home Office spokesperson said:
All DDP mentors have an obligation to raise any concerns they have during or after a session with the relevant authorities who can then make an assessment about the risk posed and take action accordingly.

As set out in the Queen's speech, the government is introducing new sentencing laws to ensure the most serious violent offenders, including terrorists, serve longer in custody.