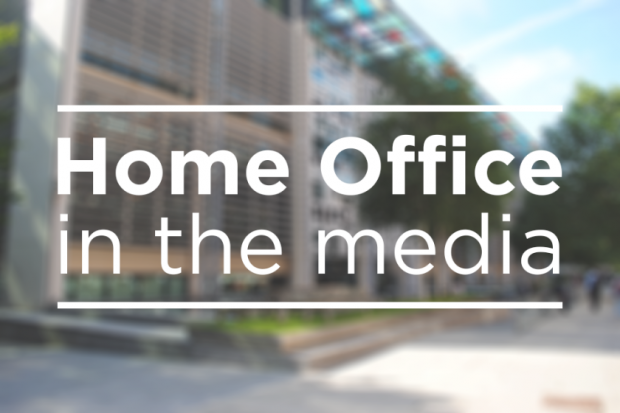 Today's top story includes the latest EU Settlement Scheme statistics and a reaction to Guy Verhofstadt's comments.
EU Settlement Scheme
The Today programme and Guardian reported that according to the latest Home Office statistics, over 2.7 million EU citizens and their family members have applied to the EU Settlement Scheme. It is noted that the figures underline a "huge take-up" of the scheme, but also show the scale of the task that still lies ahead for the Home Office.
The EU Settlement Scheme is providing certainty to millions of EU citizens across the country and some of the misconceptions we've seen about the settlement scheme have been unhelpful when our focus is on providing reassurance.
Mr Verhofstadt said this morning on the Today programme that the Government would look at options for people to print out their confirmation.
There is no change to our digital approach. It has always been the case that people could print a copy of their confirmation letter, but this can't be used as evidence of status. The EU Settlement Scheme grants people with a secure, digital status which future-proofs their rights. Physical documents can get lost, stolen, damaged and tampered with.
He mentioned the grace period for EU citizens. We have made it clear that where people have reasonable grounds for missing the original deadline, they will be given a further opportunity to apply.
When asked about citizens' rights and what the EU is doing to help British citizens in Europe, Mr Verhofstadt said he will increase the pressure in the coming days and send a letter to the member states. He was supported by Albert Costa MP who argued this should be a two-way process.
A statement commenting on the latest EU Settlement Scheme statistics published yesterday can be found below.
Minister of State at the Home Office Brandon Lewis said:
EU citizens are our friends, family and neighbours and we value the huge contribution that they have made to our country.

The UK is their home and the EU Settlement Scheme has already granted status to 2.5 million people so they can stay.

We have done more than other EU member states to support EU citizens and it's time other countries made the same generous offer to the million UK nationals who live among them.