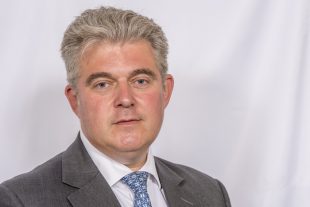 Last week, the Security Minister wrote in The Times Red Box  on the certainty we're providing to EU citizens through the EU Settlement Scheme.
He wrote:
Three years and two general elections after the British people voted to leave the EU, we are finally getting Brexit done.

It will be a time of change for everyone, including the millions of EU citizens who live among us and the million UK nationals who live in the EU.

I want to reassure the EU citizens here – whether they're a French architect in Manchester, Italian nurse in London or Polish chef in Glasgow – that we hugely value the contribution they make. That's why our priority from the beginning has been to safeguard their rights through the EU Settlement Scheme, one of the biggest of its kind in the world.

We have had over 2.8 million applications in less than a year since it fully launched to the public, as I explained when taking the citizens' rights clauses of the European Union (Withdrawal Agreement) Bill through the Commons last Tuesday.

But a new system understandably raises questions. Why is it digital? What help is available? How about the marginalised and vulnerable?

Firstly, our scheme is free to apply and there are just three key steps: prove your identity, show us you live here and tell us about any criminal convictions. It's rather like renewing a passport or driving licence.

Our use of world-class technology means that people can apply from the comfort of their home in as little as 15 minutes. We built the dedicated app from scratch and it has scanned the chip in more than two million passports already. It uses facial recognition and smartphone technology to make the process as easy for as many people as possible.

Secondly, we are granting a secure digital status which cannot be lost, damaged or tampered with.

It future-proofs the person's immigration status and is linked to their passport or identity card to make travelling through the UK border easy when free movement ends. This level of innovation is unheard of in immigration systems around the world and something that we are extremely proud of.

Thirdly, we have also put in place a wide range of support to help people. There are 1,500 staff at the home office working hard to help people apply and a dedicated helpline is open seven days a week. They do great work and regularly take the time to talk people through their application step-by-step.

And we are funding over 50 charities up and down the country who have already helped hundreds of thousands of vulnerable people so they don't get left behind.

The EU Settlement Scheme goes above and beyond the deal we agreed with the EU on citizens' rights. We're providing certainty to millions across the country so they can evidence their rights in decades to come.

This is far more than what other EU countries have done for UK nationals abroad. It's now time for EU countries to step up to the plate and make the same generous offer to the million UK nationals who live among them.