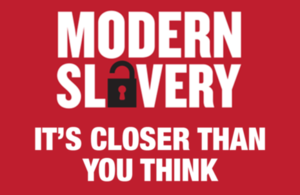 The Modern Slavery Act 2015 received Royal Assent five years ago today (March 26).
This landmark piece of legislation has enabled the government to target perpetrators, safeguard victims and prevent exploitation in global supply chains. To acknowledge the fifth anniversary, we have published the world's first government Modern Slavery Statement, which sets out what we have done to prevent modern slavery in our own supply chains.
This factsheet sets out further measures taken by the government since the Modern Slavery Act received Royal Assent.
Prosecutions under the Modern Slavery Act
The Modern Slavery Act 2015 gives law enforcement agencies the tools to tackle modern slavery, including maximum life sentences for perpetrators and enhanced protection for victims
The number of live police operations has increased thanks to the provisions under the Act, from 188 police operations in December 2016 to at least 1,640 in May 2020
In the year to December 2019, the police recorded 7,283 offences of modern slavery. This is a 67% increase compared with the previous year (4,359 offences)
The latest Crown Prosecution Service records for 2019 show: `

Completed prosecutions increased from 294 in 2018 to 349 in 2019 (increase of 17.1%).
Convictions increased from 191 in 2018 to 251 in 2019 (increase of 27.1%).
Conviction rate rose from 65% in 2018 to 71.9% in 2019 (increase of 6.9%).

The Gangmasters and Labour Abuse Authority (GLAA) continue to make progress using its powers under the Police and Criminal Evidence Act 1984 (PACE) to investigate serious cases of labour exploitation. In 2019/20, the GLAA conducted over 226 operations, across a range of sectors.
 Transparency in supply chains
Under the transparency in supply chains provision in the Modern Slavery Act, the UK is the first country in the world to require businesses to report on the steps they have taken to stamp out modern slavery in their supply chains
The landmark transparency provision in the Modern Slavery Act has driven a change in business culture, spotlighting modern slavery risks on boardroom agendas and within the international human rights community
Five years on from the Act, the government is:

Consulting on proposals to strengthen the transparency provision in the Modern Slavery Act and level the playing field for responsible businesses. The government will publish its response to this consultation in due course
Raising the bar for transparency by creating a free online central reporting service for modern slavery statements, to make it easier for consumers, NGOs and investors to understand the action that organisations are taking to prevent modern slavery in their supply chains
The government is harnessing its spending power to ensure the unscrupulous and exploitative do not take a share of the £50 billion that central government spends on goods and services each year
We have published the world's first Government Modern Slavery Statement, which sets out what action we have taken and future goals to prevent modern slavery in our supply chains. It highlights a range of activity including direct engagement with around 400 suppliers on implementing effective modern slavery due diligence and risk assessment training delivered to over 250 government commercial staff
The government has already announced plans to deliver greater social value through its commercial activities, that will incentivise businesses to become more responsible and sustainable
 The National Referral Mechanism (NRM)
The NRM is the UK's system for identifying and supporting victims of modern slavery, to which we are implementing significant reforms to enable it to support more victims than ever before
The launch of the Single Competent Authority in 2019 has allowed decisions to be made in a more efficient and streamlined way, while Multi-Agency Assurance Panels provide additional independent scrutiny to ensure quality decision-making
A new digital system has been built to support the NRM process, making it easier for those on the front line to refer victims into support by providing a single point for referrals across the UK. In August 2019, the digital referral form was launched following a successful closed-beta testing with a group of First Responders
The digital system also supports an effective and efficient case management process in enabling the identification of victims
In 2019, 10,627 potential victims of modern slavery were referred to the NRM; a 52% increase from 2018.
Support for children
We are committed to providing specialist support for child victims and have successfully expanded the Independent Child Trafficking Guardians (ICTG) scheme, to be operational in one third of all local authorities in England and Wales
An evaluation of the ICTG service within the early adopter sites was published in July 2019. Over this time period, 445 children were referred to the ICTG service. Over the last year children's charity Barnardo's have continued to support more and more vulnerable children as awareness of this service grows
Children have said that the service has been their lifeline for understanding the complex systems of social care, immigration and criminal justice, whilst professionals have said that the service helped them to navigate effective safeguarding through a trafficking lens
ICTGs are additional to the statutory support provided to all vulnerable children by local authorities. The Government is providing councils with an additional £1 billion for adult and children's social care next year. This is on top of the continuation of the £410 million social care grant in 2020-21
*This fact sheet was updated on 10/07/2020