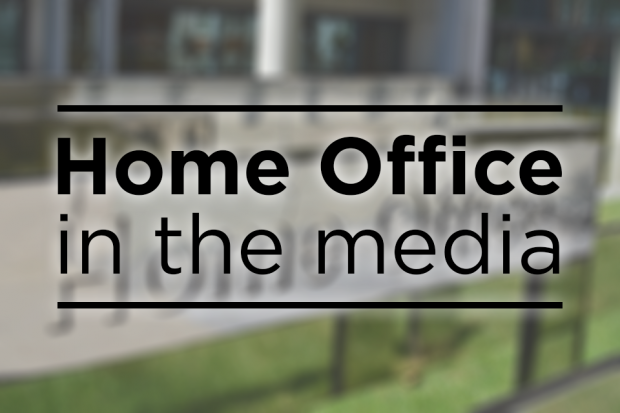 Today's Home Office related news includes coverage of the Spring Budget which contained an extra £20 million to tackle domestic violence and coverage of a new report from the Council of Europe.
New funding for tackling domestic abuse
The Guardian, Independent and Metro report that the Chancellor unveiled an extra £20 million for tackling domestic violence as part of the Budget yesterday, which coincided with International Women's Day. The Guardian says the increase will bring the total state funding to £100 million over the course of this Parliament and notes that the Chancellor repeated the Government's commitment to introducing a Domestic Violence and Abuse Act. Journalists interested in this funding should contact HM Treasury press office who have published a press release on Gov.UK.
Counter-terror and anti-radicalisation
There is coverage in the Daily Mail of a report by the Council of Europe which claims the UK's anti-radicalisation strategy is 'fomenting resentment' within Muslim communities. However, the Mail says this "flagship programme" has been credited with deterring people in the UK from travelling to join Da'esh and quotes Simon Cole, the National Police Chiefs' Council lead for Prevent, as saying the programme is "absolutely fundamental" to the UK's counter-terrorism efforts. Our statement on the report is below.
A Government spokesperson said:
Prevent is about safeguarding people who are at risk of radicalisation. Prevent does not target a specific faith or ethnic group - it deals with all forms of extremism and protects those who are targeted by terrorist recruiters.

Currently the greatest threat comes from terrorist recruiters inspired by Da'esh. Our Prevent programme reflects this threat with support for vulnerable people at risk of radicalisation by these terrorist recruiters, and we are working in partnership with British Muslim communities and civil society groups to tackle this problem.

Through Prevent thousands of people in the UK have been safeguarded from targeting by extremists and terrorist recruiters. That includes those at risk from far-right and right wing extremism, as well as those vulnerable to Islamist extremism.

Prevent is fundamentally about safeguarding people, including our children, from the risks of radicalisation and this forms part of a school's wider safeguarding remit alongside protecting children from other harms, such as drugs, gangs and physical and sexual abuse.