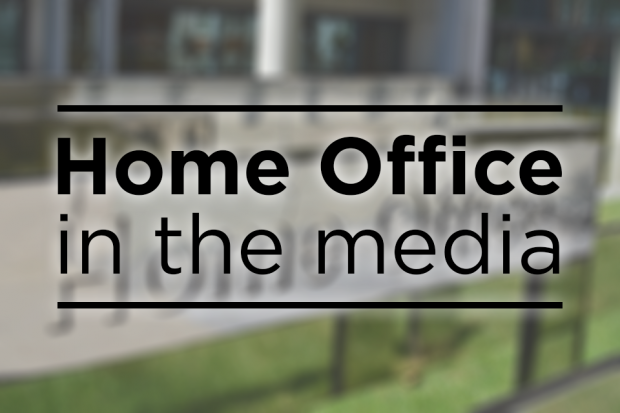 Today's Home Office related news includes coverage of the latest terror arrest statistics and an article focusing on policy around returning refugees to their home country safely.
Terror arrest statistics
There is widespread print coverage of statistics published yesterday which gave a quarterly update on the operation of police powers under the Terrorism Act 2000.
All coverage focuses on the rise in white terrorism, with the majority of the pieces highlighting that this was the only ethnic group to record a rise in arrests.
Our statement on the statistics is below:
Security Minister Ben Wallace: 
We are determined to detect, disrupt and where possible prosecute all those who pose a threat to the UK.

We know that the police and security services have disrupted 13 UK terrorist attack plots since June 2013.

The figures released today once again highlight the hard work carried out by the police, Security Service and Crown Prosecution Service day in and day out to keep the people of this country safe.

At a time of significant threat, it is vital our law enforcement, security and intelligence agencies have the capabilities they need. The Investigatory Powers Act has updated our legislation to ensure they have the powers necessary to protect the public, subject to strict safeguards and world-leading oversight.          
Refugees' "safe return" review
The Guardian carries an article reporting tens of thousands of refugees who apply to live permanently in Britain are to be required to undergo an official review to see if it is safe for them to be repatriated, under new Home Office instructions.
We introduced safe return reviews in February 2016, following the former Home Secretary's announcement during her 2015 conference speech that "strengthened" measures would come into force.
The process of examining country information and personal circumstances has always been in place when considering settlement applications.
Our statement clarifying that our policy has not changed is below:
A Home Office spokesperson said:
There has been no change in our policy. Since 2010 we have granted settlement to more than 100,000 refugees, however we have never operated a policy of automatic settlement.

We consider every application for settlement on its individual merits and we're clear that protection will be granted for as long as it is needed.The UK has a long and proud history of granting protection to those who need it and that is not going to change.