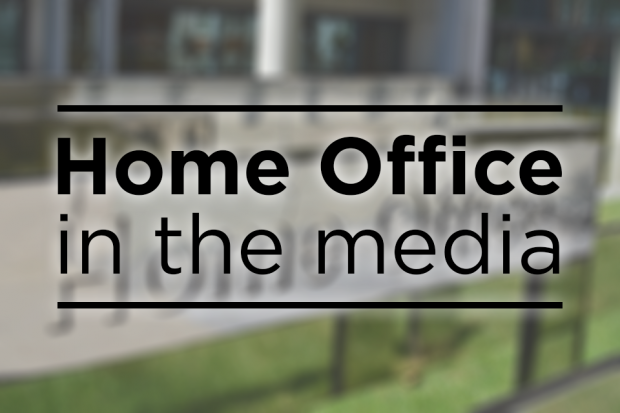 Today's Home Office related news includes coverage of a fire at a refugee camp near Dunkirk in France and a Home Secretary op-ed on modern slavery.
Dunkirk refugee camp
A number of newspapers report that a fire broke out a refugee camp near Dunkirk yesterday. The Times, Telegraph and Mail report the fire destroyed at least 75 per cent of the Grande-Synthe camp.
Operations at the UK border were unaffected by the fire, but the government is continuing to work closely with the French authorities to monitor the situation in Northern France.
A Home Office statement and a factsheet about our work at the juxtaposed controls are below.
A Home Office spokesperson said:
We continue to work with the French authorities to further bolster ports in northern France. This includes not only physical security measures but also wider work to tackle criminal gangs involved in people trafficking.
Fact sheet: The UK's juxtaposed border controls
The juxtaposed controls
The UK operates border controls in France and Belgium. This allows Border Force officers to check passengers and freight destined for the UK before they begin their journey.
These 'juxtaposed controls' are in place at Calais and Dunkirk ports, at the Eurotunnel terminal at Coquelles and in Paris Gare du Nord, Lille, Calais-Frethun and Brussels Midi stations for Eurostar passengers.
The arrangement is reciprocal, with French officers completing Schengen entry checks in the UK. These arrangements are underpinned by bilateral treaties.
Millions of passengers and billions of pounds worth of legitimate trade pass through our juxtaposed border controls each year.
With hundreds of ferry and rail crossings each week, the ports in Northern France remain a target for criminals attempting to smuggle dangerous goods and for people looking to enter the UK illegally. This is why we take border security at these ports seriously.
Protecting the ports
Last year both the UK and France reaffirmed their commitment to strengthening the security of our shared border and preserving the vital economic link between our countries.
The UK has invested in: new high-security fencing, lighting, CCTV and infrared detection technology at both Calais and Dunkirk ports and Coquelles Terminal; new technology to assist Border Force officers to make detections; additional security guards and search dogs; A secure waiting area for lorries at Calais and Coquelles; a joint command and control centre to coordinate the law enforcement response to migrants attempting to reach the UK illegally.
Ahead of the Calais camp being closed last year, the Home Secretary announced £36m to maintain security at our juxtaposed border controls, support the clearance of the camp and to make sure it remains closed. This was the latest in a series of significant investments to secure the border.
Searches and security
All freight vehicles are screened for hidden people or other contraband.
Border Force uses a range of techniques including detection dogs, carbon dioxide detectors and motion detection technology – as well as visual checks and physical searches to detect stowaways hidden deep within vehicles. Officers are also acting on intelligence, targeting vehicles thought to be linked to organised crime groups.
Every passenger is subject to passport control checks against security and immigration watch lists they would be subject to if they arrived at a UK airport. Our officers are experts in the detection of forged documents and imposters.
Border Force officers are there, 24 hours a day, every day of the year using intelligence, technology and their expertise to keep communities in the UK safe.
As well as illegal drugs, counterfeit goods and untaxed tobacco, tens of thousands of attempts to enter the country illegally are stopped before vehicles leave France.
The role of industry partners
Hauliers are expected to operate effective security measures, including securing their lorries with a padlock, seals and tilt cord. Where this is not done, and migrants are found in a vehicle the driver and the owner or hirer of a vehicle can face a fine of up to £2,000 for each clandestine entrant detected.
Combating organised immigration crime
The UK has established the Organised Immigration Crime Taskforce which brings together officers from Border Force, the National Crime Agency, Immigration Enforcement and the Crown Prosecution Service.
The Taskforce seeks to use every opportunity, whether that be in source countries, countries migrants travel through or in Europe to identify and tackle organised crime groups involved in organised immigration crime.
We have also increased our joint intelligence work with European and international partners to target the criminal groups who facilitate people smuggling.
Modern Slavery
The Daily Express carries a comment piece from the Home Secretary in which she highlights her desire to tackle modern slavery and human trafficking.
In a separate news article, the newspaper reports that a new £1m unit has been set up by the government to tackle the scourge of modern slavery and trafficking.
The Home Secretary visited the new elite multi-agency intelligence unit today, stating it will enable us to have a "co-ordinated push against the organised crime groups that are at the heart of the trade in human beings and human misery".