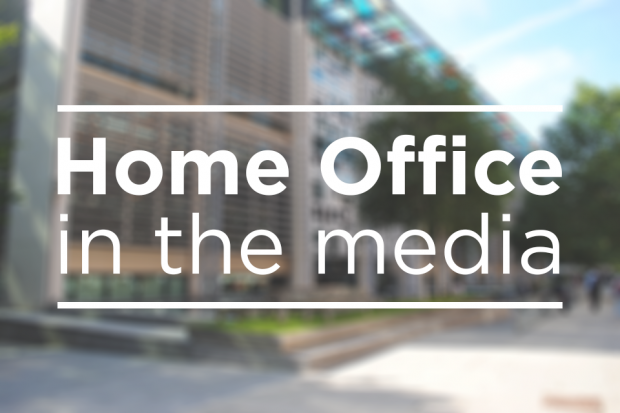 Today's Home Office-related coverage includes the Prime Minister's proposal of a "major national investigation" into cladding on buildings, the introduction by the government of new measures to protect women and girls from crimes committed overseas as part of its Domestic Abuse Bill, and reporting of a rise in knife crime.
Grenfell tower block fire
There is widespread coverage of the Prime Minister's call for a national investigation into cladding on buildings, the expert panel appointed by Sajid Javid, and the Home Office's statistical release on Fires in purpose-built flats, England, April 2009 to March 2017.
Questions on the national investigation and expert panel should be directed to DCLG.
The Policing and Fire Minister's statement on the statistical release is below.
Minister for Policing and the Fire Service, Nick Hurd said:
Fire and rescue services do vital, life-saving work, as was so clearly demonstrated by their response to the tragic fire at Grenfell Tower.

Over the past 10 years the total number of fire incidents in England has more than halved, and this Government will continue to ensure fire and rescue services have the resources they need.

Each fire and rescue authority manages its resources across prevention, protection and operational response to meet local risk and this includes the number of fire safety audits they carry out. In London, 2,507 fire safety audits were carried out in 2015/16 in purpose-built flats above four storeys, compared to 1,307 in 2009/10.
Ratification of Istanbul convention
The Guardian reports the government will introduce new legislation to tackle violence against women, which will include extending "extra-territorial jurisdiction" so that certain offences committed by British citizens can be prosecuted in UK courts regardless of where they take place in the world.
The legislation would be the final step to enable ratification of the Council of Europe Convention on preventing and combating violence against women, known as the Istanbul Convention.
The Home Secretary's statement on the new measures can be found below.
Home Secretary, Amber Rudd said:
Domestic abuse has a devastating and life-long impact on victims, their children, family and friends, and this Government is determined to eradicate it.

These measures will help us bring justice to women who experience these abhorrent crimes anywhere in the world and shows perpetrators there is nowhere to hide.

This Government has always been clear that we will ratify the Istanbul Convention and a Domestic Abuse Bill will allow us to deliver on that, demonstrating how we are driving international action to end violence against women.
Knife crime in London
The Telegraph and Guardian report London Mayor Sadiq Khan has announced a new £625,000 campaign against knife and gang crime. The Telegraph reports the number of offences in London involving knives rose by 24 percent in 2016, and both papers note that 24 people under the age of 25 have been fatally stabbed in the capital since January.
A Home Office spokesperson statement on the announcement is below.
A Home Office spokesperson said:
Knife crime has devastating effects – which is why we are taking action to tackle it.

Early intervention is at the heart of our Modern Crime Prevention Strategy and we are supporting a range of projects to prevent gang participation and violence.

We also work closely with the police, retailers and voluntary groups, have banned the sale of so-called 'zombie knives' and have worked with major retailers to prevent the underage sale of knives.

No agency alone can tackle knife crime and we welcome the London Mayor's support.
Sign up for email alerts and follow us on Twitter.