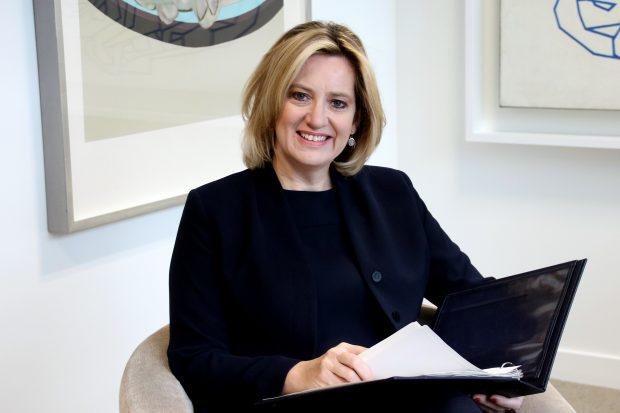 The Home Secretary has today written in Pink News to mark this year's Pride celebrations in London.
Amber Rudd said 2017's event was 'particularly poignant' because it marked the 50th anniversary of the partial decriminalisation of homosexuality.
Her words come after the Home Office worked with the producers of EastEnders on a storyline involving a gay character who had kept secret his criminal record for an historic gay sex offence.
In the programme the character, played by Ian Lavender, loses his job and almost leaves the area until a younger gay character tells him about the Home Office's Disregard scheme. The scheme allows people with criminal records for historical consensual gay sex offences to apply to have them removed. If successful, they are then automatically pardoned.
Writing in Pink News, the Home Secretary said:
The LGBT+ community's journey from prejudice to being able to live in a society which embraces diversity is rightly being recognised this year and never more so than this weekend. Events across the county have been taking place over the summer to mark Pride from in our biggest cities to rural market towns and villages.
Ms Rudd also speaks about her pride in the Home Office supporting LGBT+ charities, Galop and Stop Hate UK, which have received funding for their work combating hate crime.
The groups received a chunk of £300,000 funding awarded to hate crime charities as part of a three-year £900,000 scheme announced last year.
Speaking on Saturday, the Home Secretary added:
London Pride's theme of 'love happens here' resonates strongly in the aftermath of the three terrorist atrocities the capital has faced this year. Pride events are a symbol of our openness, diversity and equality. Nothing is stronger than people from all backgrounds coming together to celebrate our values and way our life.

I want to take the opportunity to thank everyone involved in making these events happen safely from the event organisers, volunteers and the police. Without you, thousands of people wouldn't be able to share their message of love, with the people they care about most in the world's greatest city.
Notes 
50 years ago the Sexual Offences Act 1967 came into effect and was a partial step in legalising homosexual behaviour.
Men with historical convictions for gay sex may apply to have their convictions disregarded (deleted or where not possible annotated). Those who have their convictions disregarded are also pardoned for the offence
Where the convictions are disregarded they will no longer be disclosed on Disclosure and Barring Service (DBS) certificates or in court proceedings.
The offences covered are mainly sections 12 (buggery) and 13 (gross indecency) of the Sexual Offences Act 1956 as well as corresponding offences under earlier legislation, and equivalent military offences.
The activity must have been consensual, with a person of 16 or over, and must not be an offence today
From January 2017 anyone who has an offence disregarded  (in the past or in the future) is automatically pardoned for that offence following the commencement of 'Turing's Law' https://www.gov.uk/government/news/thousands-officially-pardoned-under-turings-law
The process is free of charge. To apply complete the application form: https://www.gov.uk/government/publications/disregarding-convictions-for-decriminalised-sexual-offences
Sign up for email alerts and follow us on Twitter.