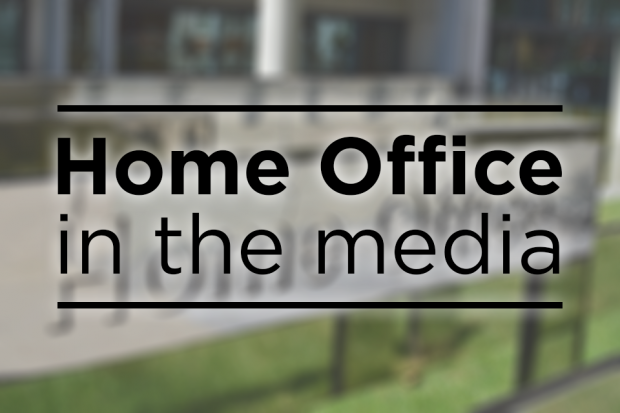 Today's main Home Office-related coverage is largely focused on free movement post-Brexit and data on student migration.
Home Secretary commissions MAC on EU migration
There is further coverage of the commissioning of the Migration Advisory Committee (MAC) to carry out an evaluation of the role played by EU migrants in the UK workforce. Some papers report of confusion on whether free movement will continue after we leave the European Union.
As mentioned in yesterday's blog post, the Home Secretary's position, as set out in her letter to the MAC yesterday (extract below), makes clear that free movement will end when we leave the EU:
The Government also said that after the UK leaves the EU, free movement will end but migration between the UK and the EU will continue.
Both the Home Secretary and Immigration Minister have been stating that, while free movement will end when we leave the EU, there will be an implementation period to ensure there is no "cliff edge" for employers or EU nationals in the UK.
Data on student migration
The FT, Times, Independent, Mail and Evening Standard report that the Office for Statistical Regulation has concluded that the former student emigration estimates are not wholly reliable. The paper report that the statistic suggesting about 100,000 foreign students stay illegally in the UK each year after their courses, is "potentially misleading".
Our statement in response to this is below:
A Home Office spokesperson said:
The Office of National Statistics (ONS) is responsible for the production of net migration statistics - completely independent of Government.

It is important that the public has confidence in statistics and that is why the Home Office continues to work closely with the ONS to support its ongoing work looking at how we measure student migration.