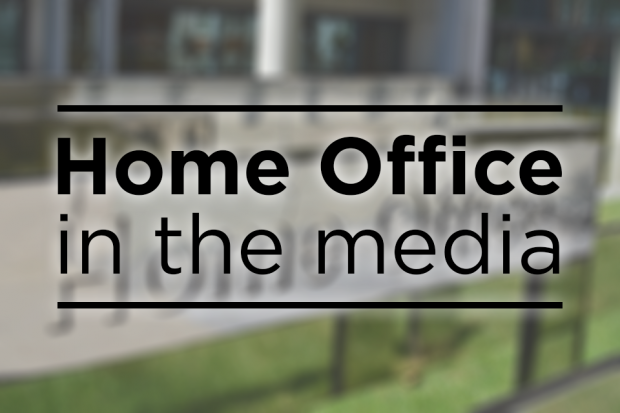 Today's main Home Office-related coverage is focused on new powers in the Criminal Finances Act, Border Force, forced marriages and the number of road traffic police officers.
Criminal Finances Act
The Times and Express both run stories on the government's efforts to grant law enforcement new powers to seize paintings, gems and casino tokens from criminals.
They report that a further new power for unexplained wealth orders will result in those suspected of involvement in serious and organised crime being forced to explain the source of their wealth.
Today a consultation on the Codes of Practice in the Criminal Finances Act has been launched.
A statement on the plans from the Security Minister can be found below.
Security Minister Ben Wallace said
Criminals don't just deal in cash, they move or hide their money in the form of expensive pieces of art, buying and selling valuable precious metal and stones or even purchasing rare stamps to mask their amassed wealth.

It is vital that law enforcement agencies can take these high value, easily transportable assets from them so that they cannot use them to fund their criminal lifestyles.

This sends a clear message to criminals that we will not stand by and watch them use the UK to launder their dirty money or fund terrorism.
Forced marriage
The Times, Telegraph, Guardian and Mirror report on figures released from the NSPCC that a rising number of young girls are seeking help to deal with the trauma of forced marriage.
The coverage says that the number of calls to Childline from people wanting counselling sessions because of forced marriage fears rose from 55 in 2011/12 to 205 last year.
The Home Office statement can be found below.
A Home Office spokesperson said:
Forced marriage is an abhorrent practice that this Government is determined to tackle.

We made forced marriage a criminal offence in 2014 and are encouraged by the first conviction, but we know there is much more to do. We want to give more victims of this hidden crime the confidence to come forward, which is why we introduced lifelong anonymity for victims last year.

We will continue to work with the police, Crown Prosecution Service and others to drive progress.
Road traffic policing
The Times, the Mirror and the Sun, as well as the Today programme and Sky News, carry reports on the number of road traffic police officers following a Freedom of Information Request from the Press Association.
The figures show the amount of dedicated road traffic police officers have decreased, with comments that this could lead to people violating laws, such as using their mobile phone while driving, more often because they think they are less likely to be caught. The decrease in numbers was put down to police funding
The Home Office  response can be found below.
A Home Office spokesperson said:
The Government has protected overall police spending in real terms since the Spending Review 2015 and we will always ensure forces have the resources they need to do their vitally important work.

Effective roads policing is not necessarily dependent on dedicated road traffic officers: the use of technology, other police personnel and local communities also have a role to play.
Border Force staff
The Express carries a story regarding seasonal workers being employed by Border Force and claims that temporary staff are not properly trained. The paper reports that Border Force has to employ seasonal workers to deal with demand because of cuts to frontline services and budget.
Our response to this story can be found below.
A Home Office spokesperson said
We are clear that keeping our families, communities and country safe comes first and Border Force officers do a fantastic job in protecting the UK from a wide range of threats.

Employing seasonal workers enables Border Force to respond to demand and deploy additional resources to frontline operations during the peak summer period to ensure the UK's borders remain among the most secure in the world.

All seasonal staff must have relevant experience and receive further specific training prior to deployment.
Sign up for email alerts and follow us on Twitter.