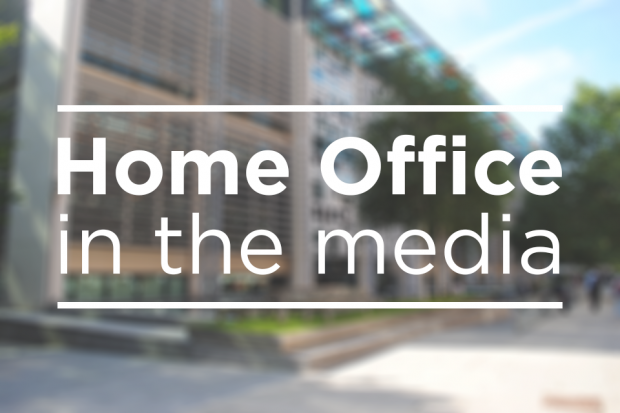 Today's Home Office-related coverage includes the news that 60 people have died in the UK since December after taking fentanyl, a Class A drug that is said to be nearly 50 times more potent than heroin. It also covers publication of police use of force data.
Misuse of painkiller fentanyl
There is widespread coverage of the National Crime Agency (NCA) and National Police Chiefs' Council (NPCC) briefing on fentanyl, which is available on prescription but otherwise a Class A drug.
The Mail reports the NCA said many of the 60 deaths  involved heroin addicts who have taken a version of that drug contaminated with fentanyl.
A number of papers say the Home Secretary has vowed to "tackle the scourge" of fentanyl, and that the government's new drug strategy would address the worrying spread of the synthetic opioid.
A Ministerial response is below.
Minister for Crime, Safeguarding and Vulnerability, Sarah Newton, said:
Drugs devastate lives, ruin families and damage communities.

As set out in our new Drug Strategy, we are already working with law enforcement agencies in the UK and overseas and Public Health England, as well as the UN, to tackle the illicit trade in drugs and help those with drug dependency to recover and turn their lives around.

Substance misuse is lower than it was a decade ago, but we must always be alive to emerging threats and the recent reports linking fentanyl to several fatal drug overdoses are extremely concerning. That is why the Home Secretary has asked the Advisory Council on the Misuse of Drugs to investigate the risks around fentanyl analogues, so that we can maximise the effectiveness of our response.
Police use of force
The Times, Independent, Guardian, Telegraph and Metro report data published yesterday by the Metropolitan Police shows officers use "force" at a rate of around once every 10 minutes.
The Times says the Metropolitan Police recorded 12,605 incidents of force in the three months to the end of June.
The Independent reports the figures were the first of their kind to be published following the Home Office Annual Data Review, with officers required to make a record of every time they use force.
Below is a Home Office response to changes to police use of force rules to increase transparency following former Chief Constable David Shaw's review.
A Home Office spokesperson said:
Our police reforms have overhauled the previous cumbersome regime of top-down targets and unnecessary bureaucracy.

But when officers take the difficult decision to deploy force it is vital that they can be scrutinised by the people they serve.

These rules changes, which are police-led, bring unprecedented transparency and reinforce the proud British model of policing by consent.