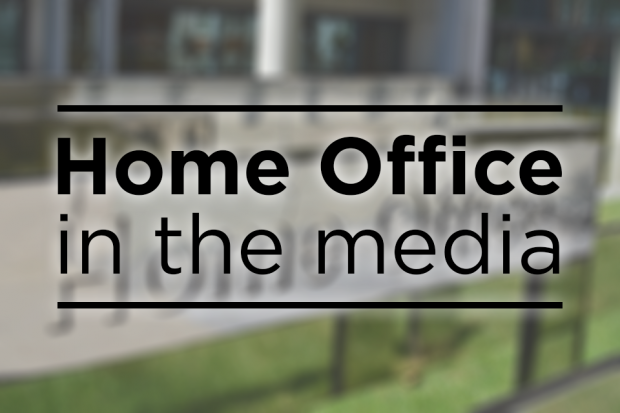 Today's news coverage of the Home Office included a story on two failed convictions under the Psychoactive Substances Act and a suggestion that official immigration statistics are measured by weighing landing cards. We clarify reporting on both of these stories below.
Psychoactive Substances Act
BBC News and Radio 4's Today programme reported that there was to be a review by the Crown Prosecution Service (CPS) of the Psychoactive Substances Act after two prosecutions for possession of nitrous oxide with intent to supply collapsed because the defence argued it was for medicinal purposes.
The CPS have now confirmed that they are considering the outcome of these cases and the potential impact on future prosecutions involving nitrous oxide. Neither the CPS nor the Government are reviewing the legislation in light of these two court cases. A statement can be found below.
A Home Office spokesperson said:
Nitrous oxide is covered by the Psychoactive Substances Act and is illegal to supply for its psychoactive effect. However, the Act provides an exemption for medical products. Whether a substance is covered by this exemption is ultimately one for a court to determine based on the circumstances of each individual case.

Since the Psychoactive Substances Act 2016 came into force, over 300 retailers across the United Kingdom have either closed down or are no longer selling psychoactive substances; police have arrested suppliers; and action by the National Crime Agency has resulted in the removal of psychoactive substances being sold by UK based websites.

These dangerous drugs have already cost far too many lives and the Psychoactive Substances Act is sending out a clear message – this government will take whatever action is necessary to keep our families and communities safe.
Immigration statistics
The Telegraph reports that official immigration statistics used to be calculated by weighing paper forms to estimate how many people were coming into the country according to a former adviser to the then-Prime Minister David Cameron. Technology entrepreneur Rohan Silva wrote the suggestion in an article for the Evening Standard yesterday.
The opinion piece by Mr Silva was incorrect in a number of places. We have clarified a number of the issues below.
CLAIM:
Until recently, the Home Office worked out how many people come from outside the EU by weighing landing cards and statistics on non-EU nationals leaving the UK were not collected.
RESPONSE:
Migration numbers are produced by the ONS using the International Passenger Survey (IPS). The IPS collects information about passengers entering and leaving the UK, and has been running continuously since 1961. It is the main source for international migration data covering immigration and emigration of UK, EU and non-EU nationals and is entirely independent and separate.
In addition the UK collects and publishes data on visa applications of all visa nationals.
Most landing cards are provided by people visiting the UK on a short term basis, for example for a holiday. Weighing the landing cards is a valid and widely used method for estimating the numbers of cards submitted. This has nothing to do with net migration data.
The Government is currently consulting on the withdrawal of landing cards.
CLAIM:
The clampdown on foreign students means that our share of the international market for higher education is actually declining.
RESPONSE:
The UK remains the second most popular destination globally for international higher education students. Four UK universities feature in the world's top 10, 16 in the top 100 and international student satisfaction rates in the UK at 91% for undergraduates.
The latest Home Office visa statistics show that between 2010 and 2016, university sponsored applications rose by 17%. The proportion of visas granted for all Tier 4 visas also rose from 73% in 2010 to 95% in 2016.
CLAIM: Skilled migrants are being turned away
 RESPONSE:
The number of Tier 2 skilled work visas has increased significantly – up  37% between 2010 and 2016.
 'High value' categories in Tier 1 (which include investors and entrepreneurs) were also three times higher (up 203%) in 2016 compared to 2010.