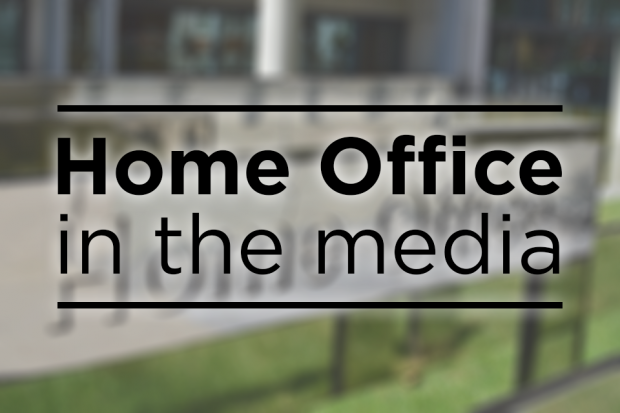 Today's Home Office-related stories include an individual immigration case and vehicle thefts.
Individual case
The Guardian reports that Canadian-Iranian national Dr Mohsen Danaie was incorrectly issued a letter by Immigration Enforcement saying his driving licence had been revoked and that he should "take steps to leave the UK immediately". The article notes that Dr Danaie has a valid work visa until September 2019, and that his named was also spelled incorrectly in the letter.
The Home Office response to this story can be found below.
A Home Office spokesperson said:
We can confirm that Dr Danaie is entitled to be in the UK and holds a valid work visa. We have written to Dr Danaie to reassure him that he will not face any enforcement action and we apologise for this error.
Vehicle thefts
The Times, Telegraph, Express and Sun report that the number of vehicle thefts is rising according to Freedom of Information figures obtained by the RAC of 40 police forces in England and Wales.
The figures show 85,688 vehicles were stolen last year compared to 65,783 in 2014, with the papers reporting that the increase was down to criminals learning to bypass advanced security measures.
A Home Office response on what is being done to tackle vehicle theft can be found below.
A Home Office spokesperson said:
Vehicle thefts remain at record low levels, according to the independent Crime Survey for England and Wales. The most recent publication indicated there were 59,000 in 2016/17, roughly one tenth of the half a million thefts experienced at the height of vehicle theft in the mid-1990s.

But we know that the methods used by criminals are constantly evolving and recognise the importance of staying one step ahead. That is why the Home Office brought together senior representatives from the vehicle industry and policing to improve our understanding of the nature and extent to which criminals are compromising electronic vehicle security and to develop responses to it.

We are also working with motorcycle and insurance industry leaders, law enforcement, local government and charities to better understand the drivers of crimes involving motorcycles, mopeds and scooters, and to identify what more can be done to take real, effective and preventative action to tackle these crimes.